From across the nation, travelers have flocked to experience Peekamoose Blue Hole — a geologic formation in the Catskills renowned for it's cerulean-colored waters. However, in the past four years the increased foot traffic has negatively impacted this pristine natural gem and caused it to reach an alarming state.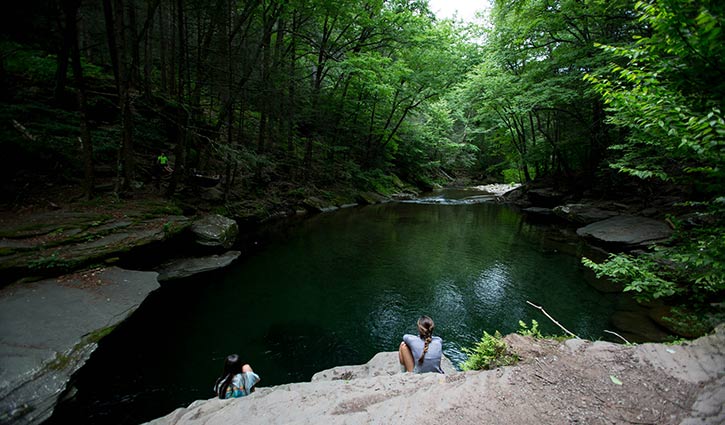 From Hidden Gem to Internet Sensation
Blue Hole's fame exploded in the past few years, as more and more people discovered this local treasure. From social media shares to rave reviews on sites like TripAdvisor.com, Blue Hole's online presence grew exponentially. Now, anywhere from 600 to 2,000 people visit Peekamoose Blue Hole on busy summer weekends.
A State of Disrepair
As more people travelled to Blue Hole, its natural beauty started to deteriorate. By the beginning of the year, Blue Hole suffered from soil erosion, trampled vegetation, litter, and human waste.  Noticing the damage, conservation councils raised an alert and began to take action to save the adored spot.
Implementing New Stewardship & Permit Programs
Needing a way to preserve Peekamoose Blue Hole, the Catskill Center created a new stewardship program with steps to protect the area.
Starting this summer, visitors will be met by stewards stationed at the trailhead of Peekamoose Blue Hole. These stewards educate visitors on how to interact with the land.
Their new policies are based on the nationwide outdoor care standard called "Leave No Trace" (LNT). LNT advocates against leaving any human evidence — from trampled vegetation to trash.
The other major policy that has been implemented is the new Day Use Permit System. Weekend and holiday visitors are now required to reserve a free permit online at ReserveAmerica.com at least 24 hours (and no more than one week) in advance before going to Blue Hole. Walk-in permits are not available. The Department of Environmental Conservation will issue up to 40 permits per day, with each permit giving entry for up to six people.
How You Can Be A Better Steward of Peekamoose Blue Hole
The Catskill Center has kindly provided suggestions for how to better care for the land and waters of Peekamoose Blue Hole.
They suggest you follow these steps:
Walk only on the designated trails to prevent erosion and allow for plant growth
Avoid sound pollution by leaving your portable speakers at home
Take out everything you brought with you to the area, including food scraps
Refrain from building fires; fires and grills are prohibited
Park only in designated spots
Keep glass containers and objects away from the area
Reserve a Day Use Permit at least 24 hours prior to visiting.
Next time you travel to Peekamoose Blue Hole, make sure you're traveling responsibly and carefully!