Break out your picnic basket! A new outdoor pavilion has just opened at the Catskill Interpretive Center in Mt. Tremper, offering a shady spot for your next family picnic or summer outing. Read on to learn about the latest addition, as well as the new improvements coming to the CIC!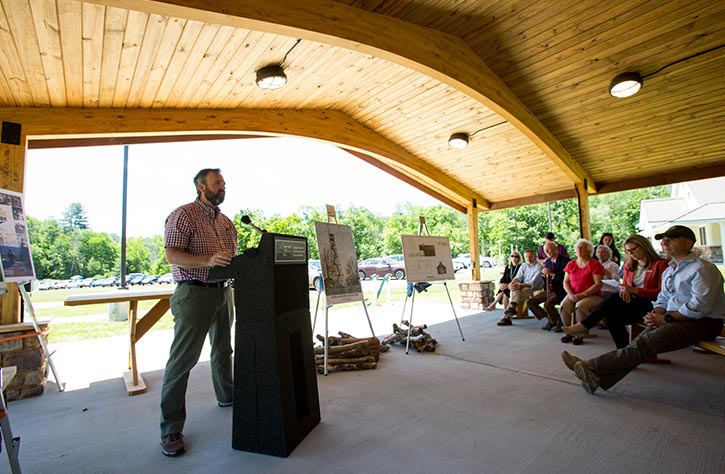 The Pavilion
According to a recent press release, the new pavilion will provide guests with a picnicking location, a venue for educational programs, and a place for groups to meet up and begin their Catskill adventures. The project is a part of Governor Cuomo's Adventure NY Initiative, which aims to bring New Yorkers closer to the great outdoors.
"We are thrilled to have a beautiful new pavilion on the property of the Maurice D. Hinchey Catskill Interpretive Center," said CIC Director Sarah McGinnis in a statement. "It will be open daily, offering a lovely shaded spot for visitors to picnic, or gather with friends. It will also give us the opportunity to host large events, both our own Catskill Center nature, art and culture programming, as well as community events in partnership with other area organizations."
In addition to offering a public picnicking and meet-up spot, the beautiful pavilion also features interior and exterior lighting and electrical convenience outlets. Completed by Maeda Construction Inc. for $282,828, the pavilion's design is meant to complement the existing CIC building. The project was funded by the New York State Environmental Protection Fund.
The construction of a new pavilion is just the beginning of improvements to the CIC! Other upcoming additions include:
A full-sized fire tower scheduled to be built in 2019,
A ranger station scheduled to open in 2019, and
A refreshed interior with interactive exhibits scheduled to be installed this winter.
About the Catskill Center
The Maurice D. Hinchey Catskill Interpretive Center is a joint project of the Catskill Center and the DEC. It was named in honor of Representative Maurice D. Hinchey, who rallied for the creation of a Catskill Park visitor center.
In a statement, Executive Director Jeff Senterman said, "The Catskill Center is honored to have such a strong partnership with the NYSDEC at the CIC to realize Representative Hinchey's dream for the Catskills. We look forward to the strengthening of this partnership and the growth of the CIC as we look towards the installation of new exhibits later this year and a Fire Tower next year. These collective efforts all help interpret the Catskills for tens of thousands of visitors and residents alike and offers a true gateway to the outdoor recreation and communities of the Catskill Park."
The Interpretive Center provides visitors with tools and resources to experience the region, including walking trails, information on the 700,000-acre park and New York City's one-million-acre Catskill/Delaware drinking watershed, and tips on enjoying all that the Catskills have to offer.
For more information, contact the Catskill Center at 845-586-2611, or email hphelps-lipton@catskillcenter.org.