Planning a day trip to Kaaterskill Falls? The New York State Department of Environmental Conservation is announcing new measures to make your visit a safer one. Here's everything you'll need to know before you head out, from important regulations to enhanced accessibility.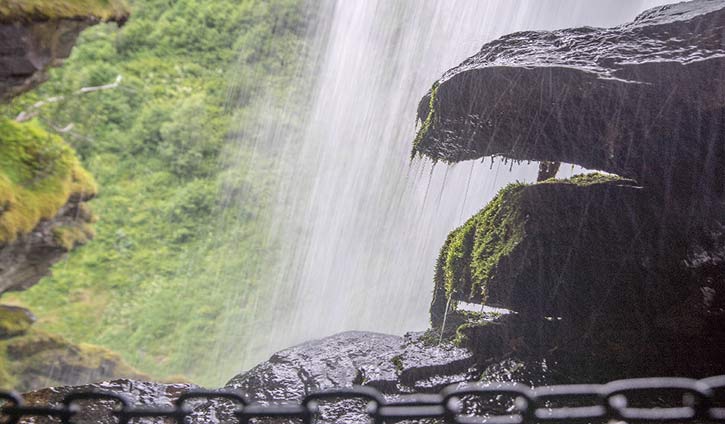 Keeping Visitors Safe
With more individuals coming to Kaaterskill Falls for sight-seeing and photo opportunities, forest rangers are doing everything they can to keep the area safe. But that hasn't been an easy task. In a recent interview with The New York Times, state forest ranger Rob Dawson said social media has played a role in the influx of visitors. "Just talking to people who come up here, they say, 'Yeah, we saw this on the internet — we're trying to find it.'"
It's no wonder that the falls have gained so much attention in recent years. With its drop of 230 feet, Kaaterskill Falls is the highest cascading waterfall in the state, taller than Niagara Falls — and a much shorter drive from New York City. Its beauty has inspired Hudson River School painters since the 1800s, and in the age of photo-sharing, many more tourists seek out the breathtaking views themselves. Added Dawson, "The unfortunate thing is, with those pictures [on social media], there's nothing informing people that you could get seriously hurt here, too."
The New York Times reported that the hot spot now sees up to 100,000 visitors a year, ten times more than a quarter of a decade ago. Sadly, these numbers can quickly become a hazard. Since 1992, at least eight people have lost their lives visiting the falls. Six of these fatalities occurred in the last decade, with two in 2016 alone.
Commissioner Basil Seggos said in a statement, "Kaaterskill Falls is an increasingly popular destination, unique in its natural beauty coupled with steep cliffs and slippery rocks. DEC encourages visitors to the falls to use caution and the regulations adopted today complement the State's $1.25 million investments to improve safety and accessibility at the falls without sacrificing its natural qualities. We want people to visit New York's natural areas and state lands, but we want them to visit responsibly and be mindful of their surroundings."
Over the past few years, the DEC has made several accessibility and safety improvements to the area, including:
Construction of an observation platform and smooth surface trail leading to the platform,
Installation of a 200-foot cable hand rail on the trail leading to the middle pool of the falls,
Improvements to the Kaaterskill Falls trail down to the middle pool, and the rehabilitation of a one-half-mile section of trail leading to the Kaaterskill trail system,
Installation of a 115-foot hiking bridge spanning Spruce Creek and connecting the hamlet of Haines Falls to the Escarpment Trail and North/South Lake Campground,
Construction of a foot trail leading from the end of the Kaaterskill Falls trail at the base of the falls upslope to the middle pool of the falls and continuing to the top of the falls,
Expansion of two Kaaterskill Falls parking areas,
Rehabilitation of a horse boarding platform and construction of a hitching post at the Scutt Road parking lot,
Replacement of a hiking trail bridge to accommodate horse traffic,
Installation of 500 feet of split rail fencing at both the upper and lower falls, and
Additional signage to warn the public about the potential dangers in the area.
New Regulations
This year, even more is being done to improve the visitor experience and overall safety at the falls and its surrounding areas, including the Kaaterskill Falls Riparian Area, Kaaterskill Clove Riparian Corridor, Platte Clove Riparian Corridor, and Colgate Lake Wild Forest Area. According to a recent DEC press release, new regulations now prohibit:
All campfires and portable stoves (except when camping at designated campsites or otherwise camping in accordance with DEC regulations),
Glass containers except for the storage of medicines,
The use of audio devices without the use of headphones/ear buds,
The possession of alcohol,
Entering restricted areas, as designated by signage,
Portable generators at Kaaterskill Clove, Kaaterskill Falls and Colgate Lake Wild Forest, and
Walking within six feet of cliff edges or entering the water within 150 feet upstream at Kaaterskill Falls.
In addition, the public may not enter Kaaterskill Clove and Platte Clove one-half hour after sunset or one-half hour before sunrise, except when camping in accordance with DEC regulations or as licensed hunters, anglers, and trappers.
For more information on the latest regulations, you can visit DEC's website at dec.ny.gov/regulations/2359.html#Recently.
Source: