Despite the popular misconception, the Greater Niagara region does not turn into a frozen tundra in the winter. Sure, lake effect snow can blanket the region with a few feet in a single storm, but that doesn't keep this part of the state inside for long. Bundle up, brush off the car, and head to the Niagara region for these 5 great winter activities: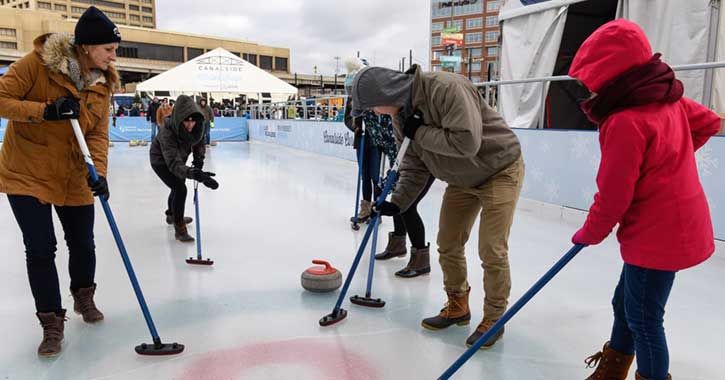 The Ice At Canalside
As soon as temperatures are cold enough, out comes the Ice at Canalside. This large rink isn't just for ice skating. Rent an ice bike for a new way to do laps, play a game of hockey or broomball, or learn the art of curling. Skating costs $4 for kids 6-12 and $6 for everyone 13 and older. Skate rentals are available for $4.
(Almost) Frozen Niagara Falls
Niagara Falls doesn't exactly freeze over every winter. Most of the time, the water is still flowing at an impressive 150,000 gallons/second. However, weeks of bone-chilling temperatures can leave the falls covered with a thick layer of ice. Come view the spectacle for yourself and notice the ice on the plants, rocks, and guard rails throughout the park. Particularly cold winters can lead to the formation of a land bridge made only of ice between the US and Canada.
Sledding at Chestnut Ridge
Located roughly 20 minutes south of Buffalo in Orchard Park, Chestnut Ridge is one of the best sledding hills in all of Western New York. Traditional sledding is open daily from 10am-8pm. For a special treat, make a visit when the toboggan chutes are open (10am-4pm on weekends & holidays, 4pm-8pm on Fridays). Make sure to BYOS or BYOT (bring your own sled/toboggan). While you're at Chestnut Ridge, hit the trail to the Eternal Flame to see this natural wonder that's still ablaze even in winter.
Aquarium of Niagara
Located in Niagara Falls, this aquarium is filled with water-loving creatures. You're sure to learn something new while visiting the seals, Humboldt penguins, and countless fish. Take your visit to the next level with a touch tank session where you can pet sea stars, lobsters, and other marine friends ($5 per person). Admission to the aquarium is $9 for children 3-12, $13 for everyone over 13, and $11.25 for seniors.
Buffalo Zoo
The Buffalo Zoo takes on a whole new life during the winter. The zoo's residents love playing in the snow, including the cold-loving polar bears, the belly-sliding river otters, and even the tigers. Warm up in Rainforest Falls in between outdoor exhibits. Tickets are $12 for adults, $9 for children 2-12, and $10 for seniors. Be on the lookout for ticket specials that pop up in the colder months.
That's just the tip of the iceberg for winter activities in the Niagara region. Whether you're a snow bunny or prefer to stay indoors, there's plenty more to explore from snowshoeing trails to art galleries.