Top Haunted Attractions in New York State
If you can't get enough of spooky sights and thrilling attractions during the fall season you've come to the right place! We've rounded up the top haunted attractions throughout the various regions of New York State that are sure to get your heart racing and the hairs on the back of your neck standing up.
Headless Horseman (Hudson Valley/Catskills)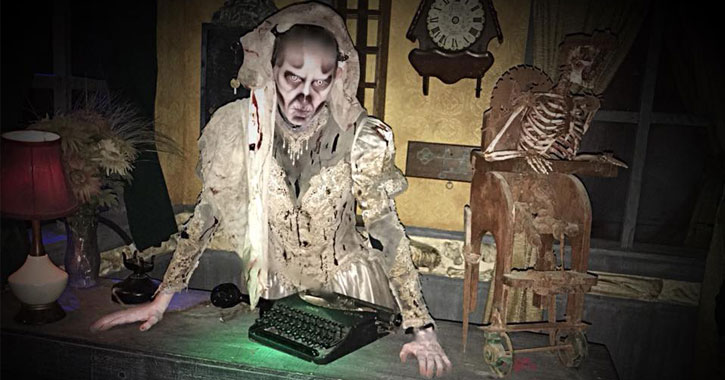 Photo provided
We've all heard the headless horseman tale, but now you can live it at the Headless Horseman in Ulster Park. This haunted attraction has won numerous awards for their spookiness, including America's Scariest Haunted House in the Northeast by MTV, and #1 Scream Park and Hayride in America by HauntWorld Magazine.
The Headless Horseman consists of a theatrical one-mile hayride, a corn maze, and seven additional attractions: The Lunar Motel, Glutton's Diner & Slaughter House, The Horseman's Tomb, Dark Harvest Corn Maze, Night Shade Nursery & Greenhouse, Dr. Dark's Black Spider Circus Show, The Feeding Presents "The Pain Killer," and Two Raven's Manor, with a magic side show.
Also, this attraction takes place on a 250-year old farm, which begs the question: Could there be actual, authentic ghosts here?
Frightmare Farms Haunted Scream Park (Central/Northern New York)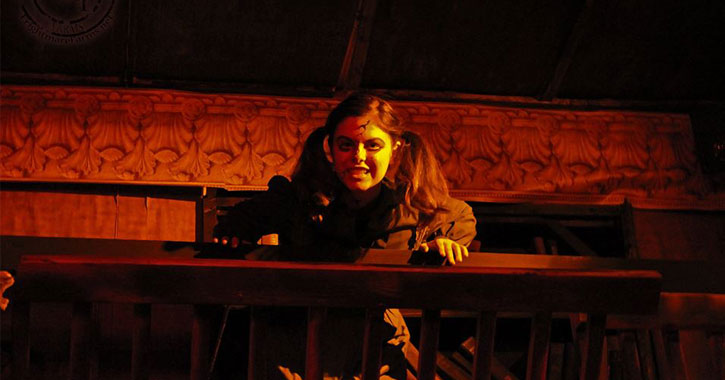 Photo provided
This haunted attraction in Palermo, near Oswego, taps into a true sense of fear within by using trained actors and a super detailed attraction.
Legend has it that Professor Whitaker has been searching the world for supernatural antiques that are so scary mere mortals are incapable of possessing them. If you visit Frightmare Farms, you'll get to see this terrifying artifacts yourself.
Also in the roster: The diligent professor has been experimenting on "volunteers," which has resulted in some unfortunate side effects. Visit the Condemned Mine Trail this season and you'll get to meet some of these new inhabitants. And speaking of those spooky objects Professor Whitaker has collected - you can see them in a network of passengers in The Professor's Twisted Labyrinth.
Chamber of Horrors (Long Island)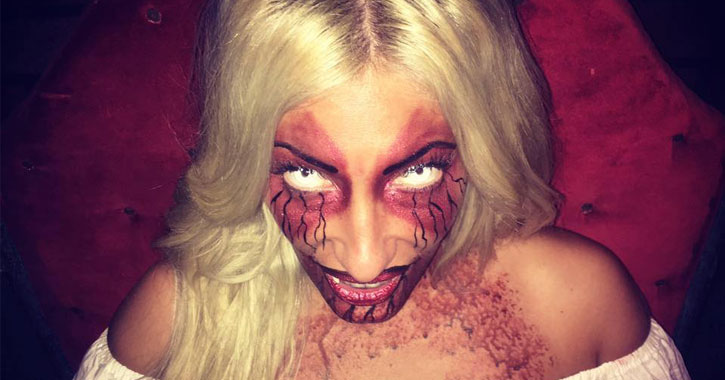 Photo provided
Located in Hauppague, the Chamber of Horrors entails a dark collection of mazes and rooms that are spread out over three separate and individually themed haunts: Manic Manor; 3, 2, 1 Blackout; and Slaughter House.
Encounter ghouls running wild while the lady of the house is out in Manic Manor; make your way through frightening sight, sound, and emotions in 3, 2, 1 Blackout; and get ready for the dead and the dying in the Slaughterhouse. There is also a three-minute escape room and a virtual reality haunted house!
Chamber of Horrors delves deep into the absolute psychology of fear. If you weren't scared of the dark before visiting Chamber of Horrors you will be by the time you leave.
Nightmares at Liberty Ridge Farm (Capital Region)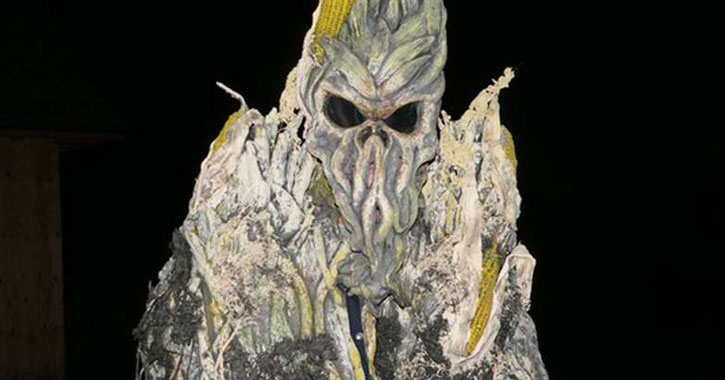 Liberty Ridge Farm: a family-friendly place for fall fun with pumpkin picking, a corn maze, cider doughnuts, and more. But watch out, because you will want to get the little ones out of there before night falls and the Nightmares take over!
At Nightmares, you'll encounter a number of hauntings: Make your way through the farmer's old mine shaft with a new scare at every layer, experience a 3D haunted nightmare, walk through the Farmer's Haunted House, fight your way through zombies in the Field of Screams, wander through the Forest of Fear, find your way out of Fort HuntD, and watch a Psychic Sideshow. Liberty Ridge Farm is located in Schaghticoke, near Albany.
This is Real (New York City)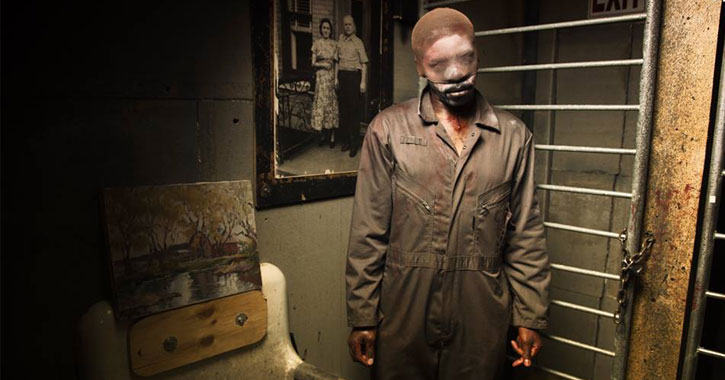 Photo credit: M. Sharkey Studios
Get ready for an intense and thrilling haunted attraction: This is Real. Guests find themselves entwined in their own horror story as they're locked in an abandonded warehouse in Brooklyn with a psychopath. Once he steps out, you must find a way to escape and survive.
The creater of This is Real has directed horror productions, haunted houses, escape games, and interactive events, and he's combined elements of all into this extraordinary and unique haunted attraction.
Although it's a newer attraction, having been established in 2016, this spooky experience was instantly so popular the unadvertised trial run sold out in a mere six hours.
Grizzly's Trail of Terror (Finger Lakes Region)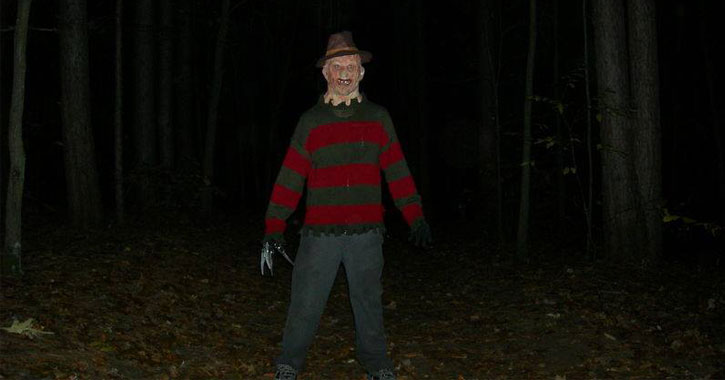 Photo provided
Embark on a terrifying one-of-a-kind Trail of Terror bus and then walk along an acre-long trail filled with monsters waiting to touch and torment you - and they'll definitely always be watching you. You can expect uneven ground and impaired visibility, along with a number of spooky encounters.
Grizzly's Trail of Terror is located in Hunt and is not recommended for kids under 13, those who are pregnant, or those with serious medical conditions. Can you make it through the trail?
House of Horrors & Haunted Catacombs (Western New York)
At the House of Horrors & Haunted Catacombs in Cheektowaga, near Buffalo, you'll find no shortage of haunted attractions: HellHouse, Killer Theater, Killer Theater Chapter 2, Mark of the Beast, The Infected, The Last Ride, Death Machine, Bomb Squad, Secret Agent 13, Escape the Serial Killer, Locked in a Room with a Zombie, and Escape the Pharaoh's Tomb - wow!
Secret Agent 13, Escape the Serial Killer, Locked in a Room with a Zombie, and Escape the Pharaoh's Tomb are escape rooms. You may have done an escape room before, but not like these! Just imagine being trapped in a room with 10 of your friends and a bloodthirsty zombie. He's chained up but every five minutes his chain gets a little bit longer...