On Monday, October 8, you're invited to a very special culinary event! Join Aly Moore of Bugible and Chef Challenge Syracuse for a sustainable proteins meal, complete with local ingredients and delicious, nutritious insects. Don't worry: there will be wine, too. Read on for everything you need to know about the Pop-Up Mystery Meal coming to Chittenango.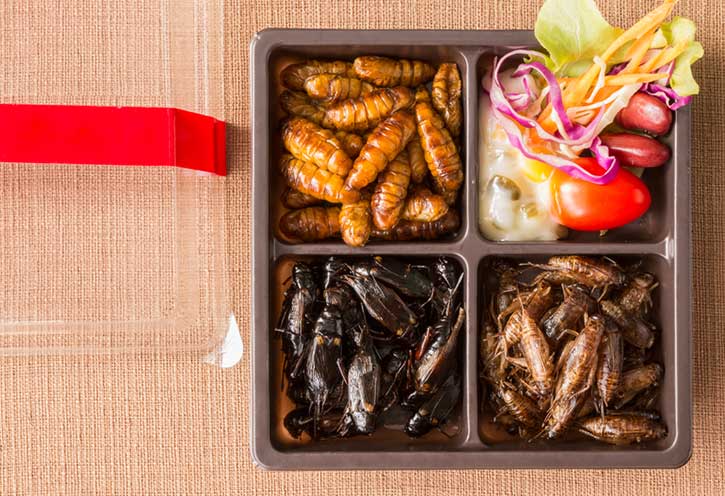 Predicting the Future of Protein
From 6 PM to 9 PM, expand your palate at the Ridge Golf Club & Tavern in Chittenango! Enjoy 6 to 8 courses, all cooked with sustainable proteins. 50% of the dishes will be served with insects (either blended or "hidden" in the dish), and 50% without. The evening's spectacular guest chefs include:
Chance Bear: Executive Chef at The Ridge, previous Executive Chef at The Lincklaen House, and four-time guest chef at the James Beard House.
Samantha Buyskes: Executive Chef at Three Brothers Wineries and Estates and H.J. Stead Company; previous Executive Chef at Kindred Fare.
Sarah Hassler: Executive Chef at The Stoop Kitchen.
Aside from insects, the chefs will be cooking with other highly sustainable proteins like spirulina (a type of blue-green algae) and spent organic brewer grains (a waste product of brewing).
"We don't ever have to eat insects again," said the Official Chef Challenge in a statement, "but we do need to reconsider our eating habits — we need to be more conscious of the environmental impact of our food. A great place to start? Eat more vegetables, eat a diversity of vegetables, eat less meat, and start buying meat from local biodynamic farms with the very best animal wellness and environmental standards!"
Admission
Thinking of attending the Sustainable Proteins Dinner? Guests can choose from several ticket options, including:
$105: Dinner Seat (with Plenty of Wine)
$65: Dinner Seat (no wine)
$110: Two Dinner Seats
20% Off For Class Field Trips (Groups of 15+): A unique experience for students at the intersection of education, sustainability, and gastronomy.
All reservations should be made in advance, as seating is limited. Buy your tickets today at Eventbrite.com! Just search Chef Challenge Syracuse: Sustainable Proteins.