Take A Walk On The Wild Side In New York
New York State offers a bounty of opportunities to see, interact and learn about wildlife, especially at the state's many zoos and animal parks. Whether you're closer to Manhattan or way up in the heart of the Adirondacks, there is likely a day's worth of wild fun awaiting just a short car trip away. Below are some can't-miss suggestions for bonding with your fellow animals, spread across the state:
2300 Southern Boulevard, Bronx, New York 10460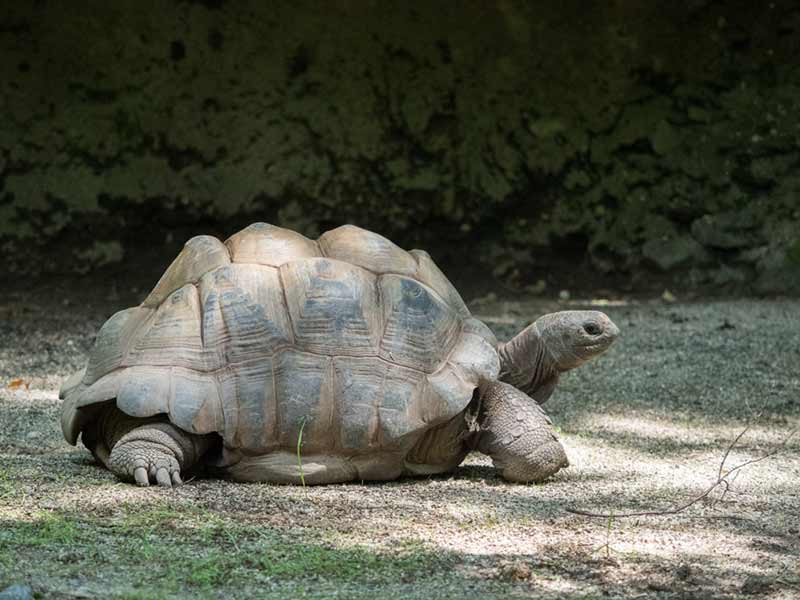 Photo by William Warby, CC BY 2.0
The granddaddy of New York zoos, The Bronx Zoo is the largest metropolitan zoo in the U.S. and one of the largest in the world, with 265 acres of park lands and natural habitats that attract 2.15 million visitors per year. Founded the New York Zoological Society (now the Wildlife Conservation Society) in 1899, it has grown to house a massive and wide-ranging collection of creatures, with more than 4,000 animals from more than 650 species. Popular exhibits include the Congo Gorilla Forest, JungleWorld, Wild Asia Monorail, Madagascar!, Tiger Mountain, African Plains, World of Birds, World of Reptiles and the Zoo Center. Premium-priced Total Experience attractions, like the Butterfly Garden, Bug Carousel, Children's Zoo and 4-D Theater, are available for an added fee. The zoo recently opened a new attraction, Treetop Adventure, which challenges visitors to climb and zipline through an obstacle course up in the trees.
3554 State Highway 30, Gloversville, NY 12078
For animal-feeding fun closer to the state capital, a longtime favorite is Adirondack Animal Land, located on 80 acres of farm land and featuring more than 500 animals in natural settings. The park offers the largest animal petting area in the Adirondacks, a breeding center for rare and endangered species, an 1800s Western town, the Country Kitchen restaurant, picnic grounds and a gift shop. Be sure to take the 45-acre African Safari Ride, where you can get an up-close look at more than 100 of the park's animal inhabitants.
300 Parkside Avenue, Buffalo, NY 14214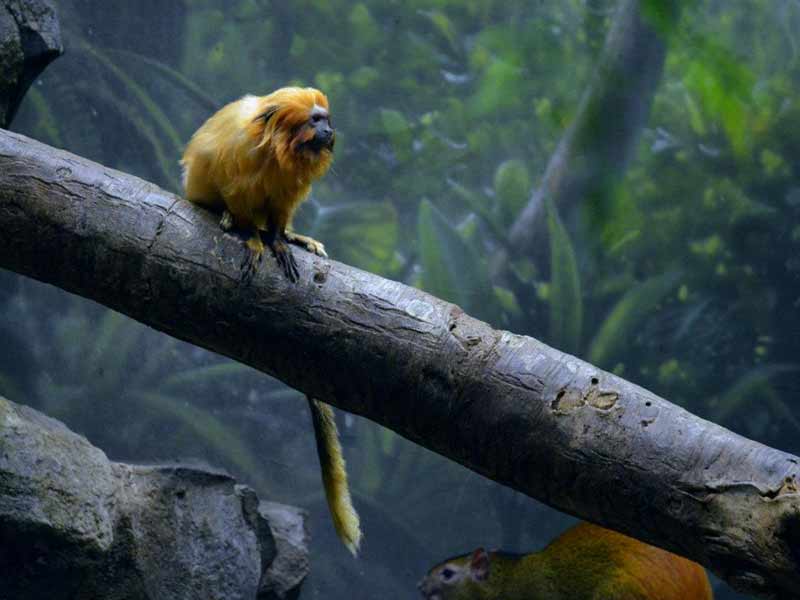 The Buffalo Zoo is the third-oldest zoo in the U.S., founded in 1875. It is the second-largest tourist attraction in Western New York (behind Niagara Falls), drawing roughly 400,000 visitors annually. Situated on 23.5 acres of Buffalo's Delaware Park, the zoo houses some 1,200 animals, as well as more than 320 species of plants. It is open year-round, even throughout Buffalo's typically frigid winters.
Major exhibits at the zoo include Arctic Edge, Rainforest Falls, Sea Lion Cove, Otter Creek, Vanishing Animals, Elephants, Giraffes, Kookaburra Corner, EcoStation and Heritage Farm (Children's Zoo). At the moment, the zoo is fundraising for a renovation of its historic Reptile House, which will feature Komodo dragons and dwarf crocodiles, as part of a 15-year master plan to modernize the zoo, which began in 2002.
2222 St. Paul Street, Rochester, NY 14621
Situated on 15.5 acres in Rochester, the Seneca Park Zoo is home to more than 90 species, including mammals, reptiles, birds, amphibians, fish and arachnids. The zoo, operated by Monroe County with support from the Seneca Park Zoo Society, has grown steadily over time since its 1893 opening, most notably with the 2012 launch of "A Step Into Africa," an immersive exhibit designed to mirro a portion of the Ngorongoro Crater in Tanzania. It features four African elephants (the only of their kind in New York State), olive baboons and African lions, in natural settings, as well as a replica Maasai hut, fossil Dig Zone and safari bus rides to view the lions.
From there you can experience an entirely different climate in the same day, just by strolling over to the "Rocky Coasts" exhibit, dedicated to animals of the world's polar and coastal temperate regions. African penguins, California sea lions, polar bears, snowy owls, Canada lynx and sandhill cranes are just some of the denizens within, including an underwater viewing area that showcases sea lions and polar bears from behind large glass windows.
45 Museum Drive, Tupper Lake, NY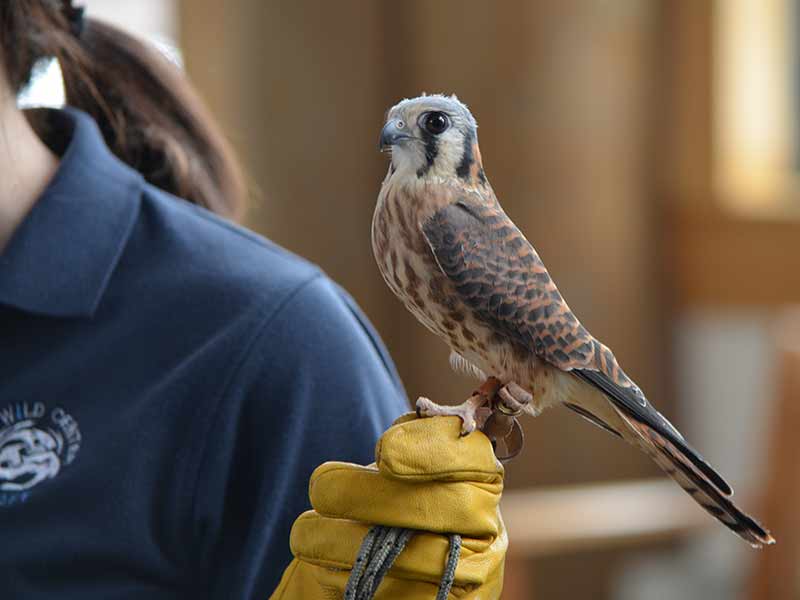 Photo by Patrick Ashley, CC BY 2.0
The central Adirondacks are home to The Wild Center in Tupper Lake, which combines indoor and outdoor attractions on a trail-filled 81-acre campus. It is the first LEED-certified museum in New York, earning a silver LEED award from the U.S. Green Building Council. The center features approximately 50 species of live animals, including river otters, birds, amphibians and fish.
Recent upgrades include Wild Walk, which the center opened in 2015, featuring 1,000 feet of bridges and platforms that rise up-and eventually over-the forest on the center's grounds. Indoor exhibit areas include The Pataki Hall of the Adirondacks, which houses The Living River Trail, circling the hall with live animal exhibits and a waterfall that's home to live otters. There is also The Big Wolf Great Hall, containing a lean-to, the glacial ice wall and live animal encounters; The Naturalist Cabinet, with its hands-on exhibits and collections; the Flammer Panoramas Theater; and Planet Adirondacks, an installation for the NOAA's Science on a Sphere initiative, with shows focusing on the relationship between the Adirondacks and the rest of the planet. Canoe trips available on the river running through the campus, and daily guided trail walks are offered, performed on snow shoes in the winter.
Burnet Park, One Conservation Place, Syracuse, NY 13204
Syracuse also has its own publicly run zoo, with the Rosamond Gifford Zoo at Burnet Park, operated by Onandaga County Parks with support from Friends of the Zoo. Opened in 1914, its 43 acres now house more than 700 animals, including Asian elephants, Humboldt penguins, Amur tigers and African lions. The zoo also offers a conservation education center, banquet and meeting space, the Jungle Cafe and a gift shop.
Popular exhibits include the USS Antiquities Aquarium, which simulates a submarine voyage through time, from life's earliest days in the ocean to later, when animals began living on land; the Diversity of Birds Aviary, a large, one-room free flight exhibit; and the half-mile Wildlife Trails walk, taking visitors past blue cranes, bald eagles, markhor goats, caribou, Amur tigers, red wolves, owls, Thorold's deer, Humboldt penguins, elephants, red pandas, Reeve's muntjacs, spectacled bears, Andean condors, Asian elephants, grey wolves, Siberian lynx, fishers and snow leopards. There are also recent additions like Primate Park, which opened in 2010, the Asian Elephant preserve, expanded in 2011 to house up to 12 elephants.
85 Martin Hill Road, Harpursville, NY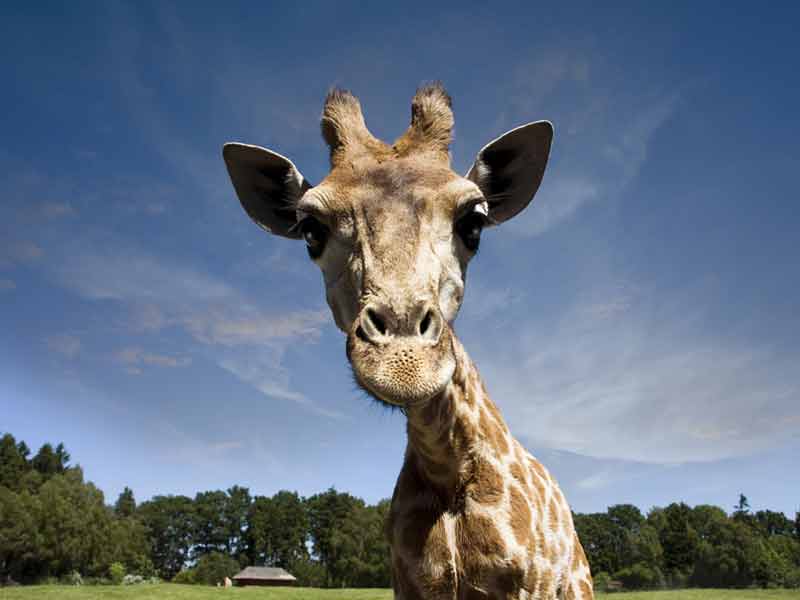 One of the newest additions to New York's wild offerings is the Animal Adventure Park in Harpursville (just outside Binghamton), which recently opened in May 2017. The park revolves around hands-on animal encounters, allowing visitors to interact and feed most of the animals in the park, including giraffes, camels, tortoises, monkeys and lemurs. In total, there are nearly 85 species of mammals, birds, reptiles, amphibians and insects residing in the park. Concessions stands and a picnic area are available when your own feeding time rolls around.
1 Utica Zoo Way, Utica , NY 13501
One of the more all-around zoo experiences can be enjoyed at The Utica Zoo, which combines both captive animal exhibits and a children's petting zoo. Opened in 1914 with a collection of just three fallow deer, the zoo-owned by the City of Utica-still has plenty of room to grow, with only 40 developed acres on its 80-acre plot. Its menagerie has grown to house more than 200 animals from 99 species, more than 140 of which are currently on display.
Its current wildlife collection includes African lions, Hartmann's mountain zebras and California sea lions, while the petting zoo features Nigerian dwarf goats. The wide array of creatures are distributed among exhibits like Wildlife Hall, Primate Hall, Asian Realm, African Alley, North Trek Nature Trail and the Children's Zoo. For an added price, visitors can also experience personal encounters with the African lions, California sea lions, red pandas, goats and Bactrian camels, depending on availability (plan to book well in advance). The zoo also features a 15-foot sculpture of a metal watering can, listed by Guinness World Records as the largest on the planet.
Explore Upcoming Events Across New York »
Choose Which Region Of New York To Visit On Your Next Vacation »