See The Rich History Of The Thousand Islands Region At These Museums & Historical Sites
Over the years New York's Thousand Islands region has served as a strategic military location for controlling multiple waterways, a playground for the ultra-rich, a center of Northern NY commerce and agriculture, and a haven for boating, fishing and outdoors enthusiasts. Its numerous historical attractions-from forts to museums to historic lighthouses-keep those traditions alive today.
Regardless of what brings you to the Thousand Islands, there are historical attractions sure to strike your particular fancy. Some rewarding spots to spend an educational day include:
Boldt Castle and Yacht House
1 Heart Island, Alexandria Bay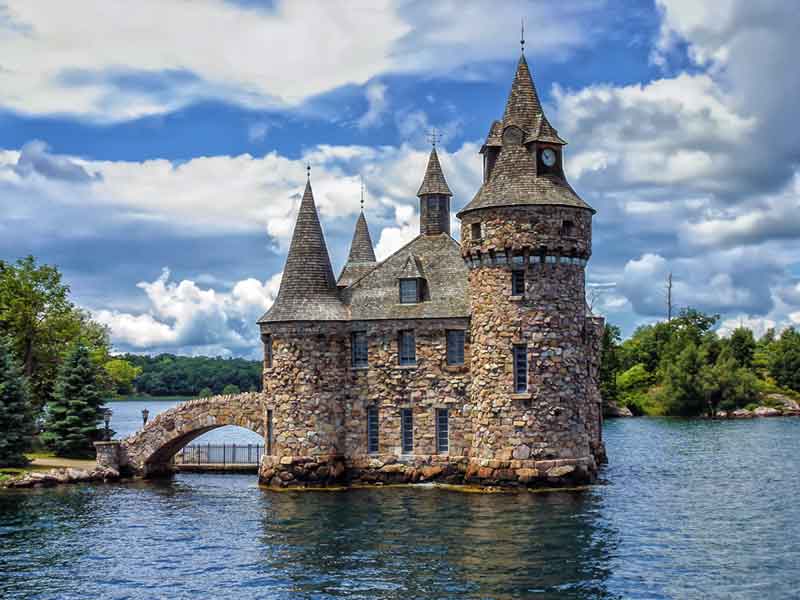 Construction began on Boldt Castle on Heart Island in 1900, at the bidding of millionaire hotel magnate George C. Boldt, as a tribute to his beloved wife, Louise. Designed as their summer dream home, it ultimately was not meant to be. Sadly, Mrs. Boldt passed away suddenly in 1904, just months before completion of the 120-room Rhineland-style castle. Mr. Boldt, who was inconsolable, immediately stopped construction, leaving the property vacant for 73 years, until the Thousand Islands Bridge Authority acquired it in 1977 and began a multimillion-dollar restoration. Nowadays, guests can enjoy a self-guided tour of the castle, yacht house, and surrounding grounds, as well as rent the historic property for weddings and special events.
Antique Boat Museum
750 Mary Street, Clayton, NY
Boats are pretty much essential in the Thousand Islands, so where better to have the Antique Boat Museum? North America's premier freshwater nautical museum features 300 unique, beautifully preserved boats, as well as thousands of recreational boating artifacts, on a sprawling 4.5-acre campus with 1,900 feet of dock space and 1,300 feet of shoreline on the St. Lawrence River. While there you can learn about boating history on the St. Lawrence River, row a St. Lawrence skiff in French Bay, tour George Boldt's 1904 106-foot houseboat and take a speedboat ride through the islands in a triple cockpit runabout. The museum also hosts special events throughout the season such as the 1000 Islands Concours D'Elegance, a classic car show.
Fort Ontario State Historic Site
1 E. Fourth St., Oswego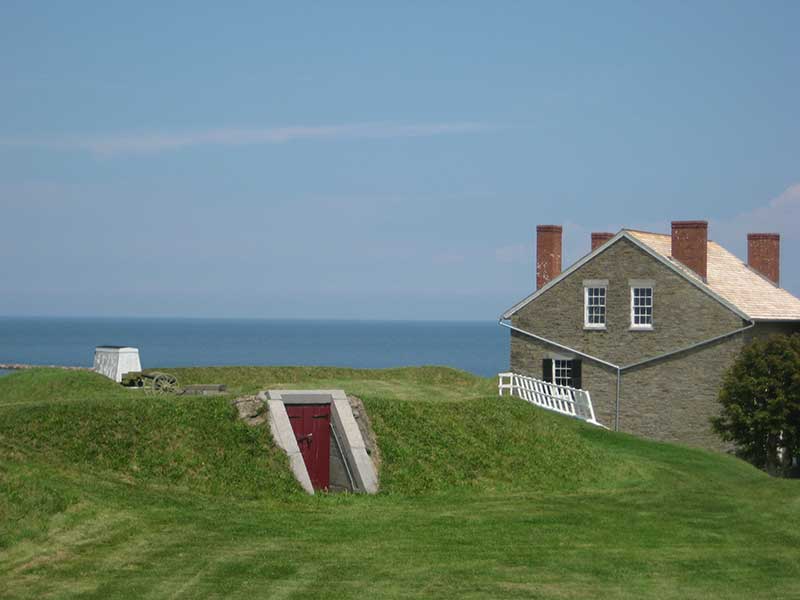 Photo by Brent Lind, CC BY-ND 2.0
Originally built by the British in 1755, Fort Ontario has been destroyed and rebuilt several times over the years. During its history, the fort changed hands between its English/Canadian founders and American neighbors during the American Revolution, War of 1812, and other conflicts. It was used by the U.S. military through World War II and served as a refugee camp for Holocaust survivors from 1944 to 1946 (the only one of its kind in the U.S.). In 1946, it was turned over to New York State, which began redeveloping the site in 1949, leading to the well-maintained historic site visitors experience today. Tour the fort's parade grounds, powder magazine, barracks, storehouse and officer's quarters to complete your voyage back in time. Check the fort's calendar for details on special events happening throughout the year.
Safe Haven Holocaust Refugee Shelter Museum
2 E Seventh Street, Oswego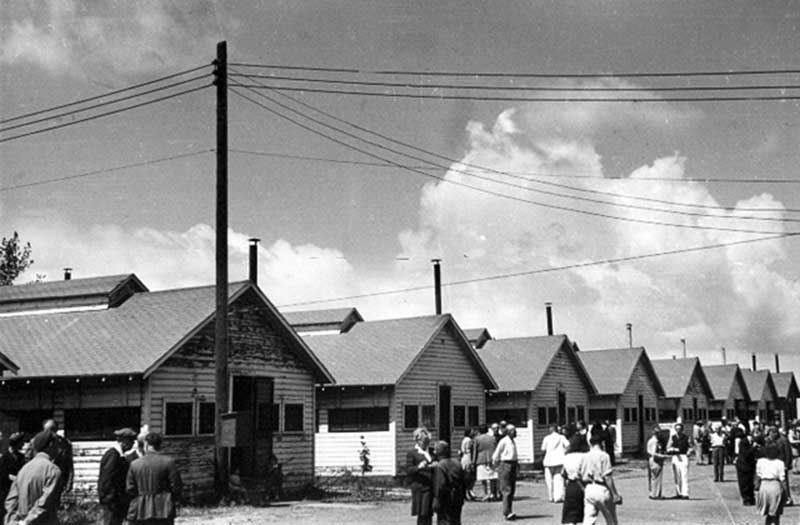 The barracks at Fort Ontario which held Holocaust refugees in WWII
From August 1944 until February 1946, Fort Ontario in Oswego served as the only refugee camp for Holocaust survivors in the U.S. The Safe Haven Holocaust Refugee Shelter Museum tells the story of the nearly 1,000 World War II refugees from Europe-mainly Jewish expatriates, including concentration camp escapees-who were brought to the region as "guests" of President Franklin D. Roosevelt. Members of the camp who wished to remain in the U.S. after the war were able to, despite signing documents that stated otherwise when first arriving to the camp. The museum is open for tours from Memorial Day to Labor Day.
Sackets Harbor Battlefield State Historic Site
504 West Main Street, Sackets Harbor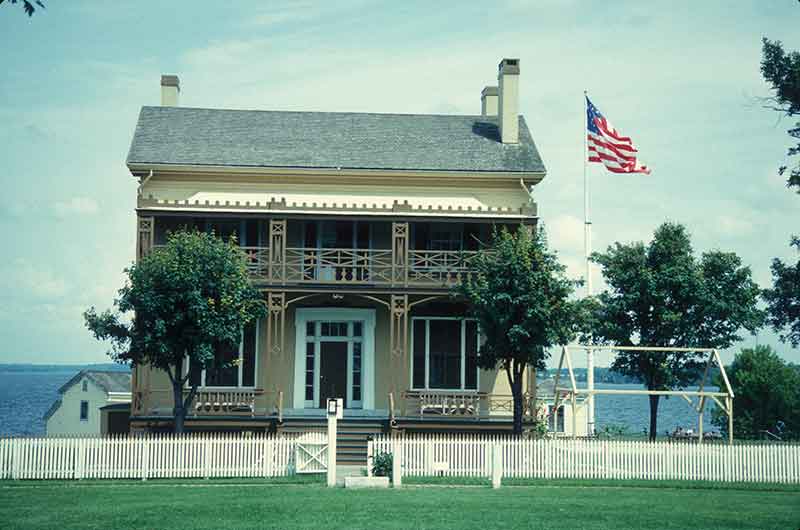 Photo by By Jerrye & Roy Klotz MD CC BY-SA 3.0
When the War of 1812 broke out, Sackets Harbor Battlefield quickly became the center of American naval and military activity for the upper St. Lawrence Valley and Lake Ontario. The site also held a massive shipyard that once employed some 3,000 workers. Nowadays guests can tour the circa-1850 furnished Commandant's House and Navy Yard Grounds, and get a taste of early 19th century naval life amid the exhibit, On Board the Jefferson. Living history demonstrations are held Wednesday through Saturday from June through August; there's also a year-round interpretive trail, picnic pavilion and scenic views of Lake Ontario.
Singer Castle On Dark Island
Dark Island, Chippewa Bay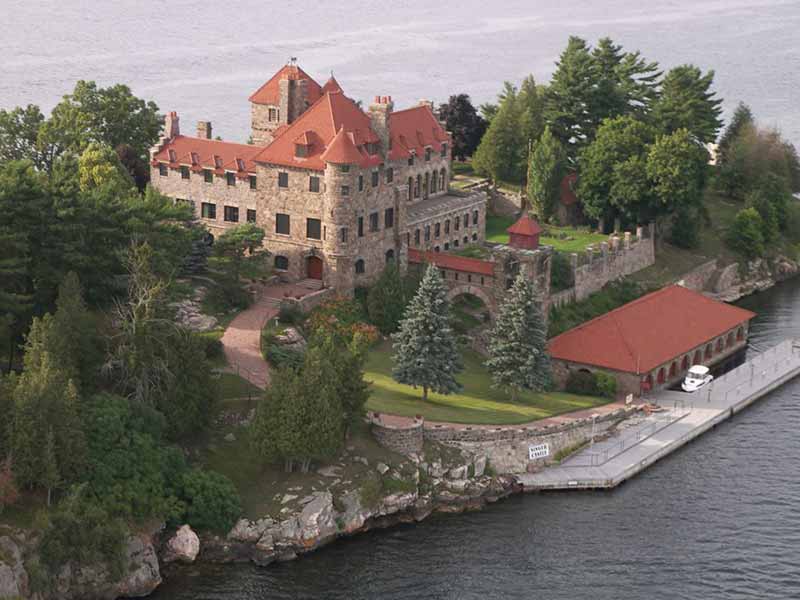 Another popular setting for weddings, Singer Castle-a 28-room Scottish-style fortress built between 1900 and 1905-stands tall on a seven-acre island in the St. Lawrence River. It was once the family home of former Singer Sewing Machine Company CEO, Frederic Bourne, and includes a five-story clock tower, four-story boat house, heated squash court, pergola and rose garden, as well as hidden passageways into nearly every room and outbuilding. Spend a leisurely afternoon touring this massive turn-of-the-century marvel; public, 45-minute guided tours cover four floors of the castle, including the great hall, library, dining room, breakfast room, terrace, drawing room, loggia, wicker room, bedrooms, guest rooms and fourth-floor dormitory.
Frederic Remington Art Museum
303 Washington Street, Ogdensburg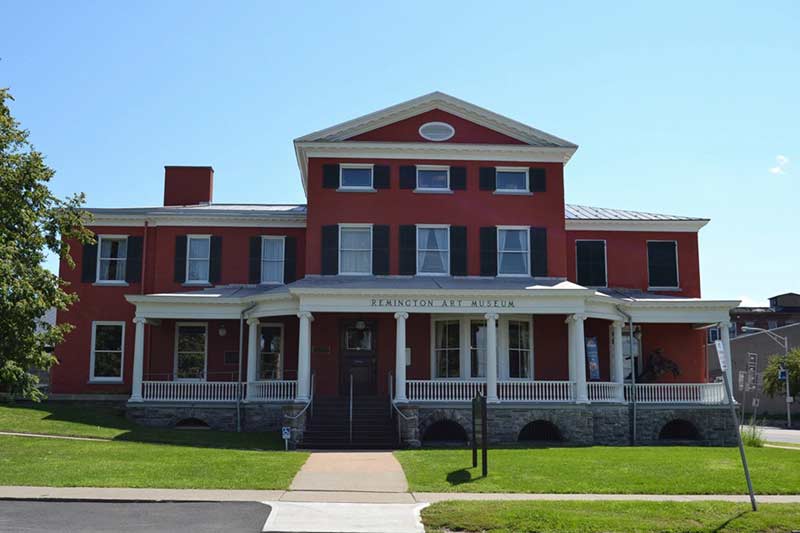 This museum is devoted to the life and work of renowned artist Frederic Remington, a native of Canton, NY. Remington was a painter, illustrator, sculptor and writer who specialized in depictions of the American Old West, specifically scenes from the last quarter of the 19th century, featuring cowboys, Native Americans and the U.S. Cavalry, among other figures from Western culture. Housed inside a historic 1810 home (where Remington's wife, Eva, lived as a widow until her death in 1918), the museum displays Remington's original sculpture, paintings, drawings and personal possessions. Also visit the Eva Caten Remington Education Center, which holds special events and has Kid's Place, an interactive children's museum.
H. Lee White Maritime Museum
1 West First Street, Oswego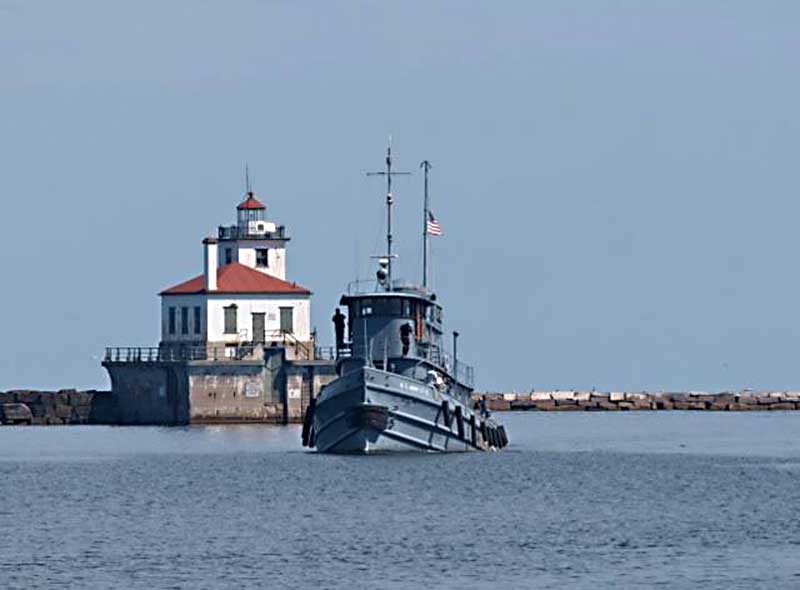 Located on a pier overlooking Oswego Harbor, collections at the H. Lee White Maritime Museum depict 400 years of Oswego County's maritime history and the colorful story of this major Great Lakes port during the 19th century. The museum's artifacts include Derrick Boat No. 8, a 1925 NYS Canal Boat on the National Register of Historic Places, and the WWII tugboat Major Elisha K. Henson (LT-5), a National Historic Landmark and the last functional U.S. Army vessel that participated in the June 6, 1944, D-Day Normandy landings. A gallery rotates displays of nautical fine and decorative arts by notable artists such as George Gray, James Gail Tyler, Frank Kraft, Eugene Caskins, Albert Adams and more.
Rock Island Lighthouse State Park
Fisher's Landing, NY - Boat Access Only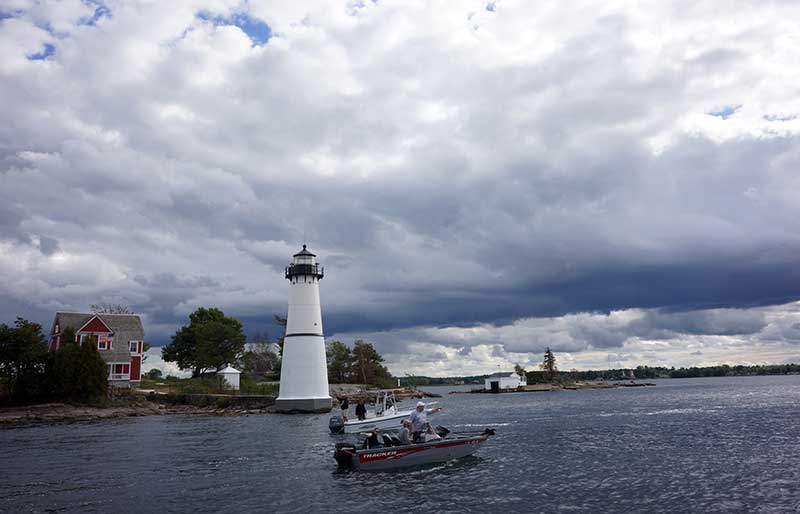 Photo by Ted Van Pelt, CC BY 2.0
Tour a historic 50-foot lighthouse, keeper's dwelling and boathouse on Rock Island, a small perch located between Alexandria Bay and Clayton on the St. Lawrence Seaway, accessible by private vessel and tour boat. Now a state park, the lighthouse and keeper's quarters are open to the public, as well as a museum and gift shop. Climb the stairs of the lighthouse and enjoy a bird's eye view from the lantern room, then explore the museum in the keeper's quarters and learn about the history of the island, its keepers and the surrounding St. Lawrence River. Weddings and special event bookings are also available.
10th Mountain Division and Fort Drum Museum
Heritage Center, Building 10502, South Riva Ridge Loop, Fort Drum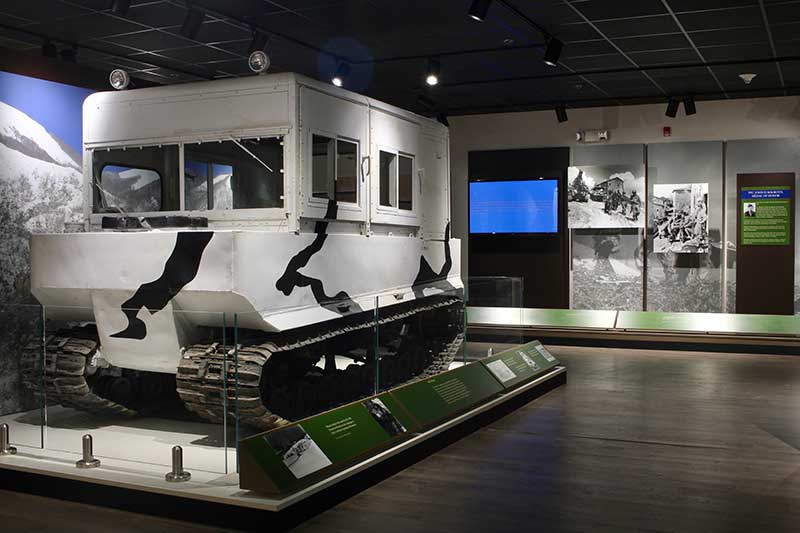 The 10th Mountain Division & Fort Drum Museum, located in Fort Drum's Heritage Center, tells the story of the base, as well as the 10th Mountain Division, through artifacts, informational boards, and interactive multimedia. Artifacts on exhibit range from the early military history of the North Country to the founding of Camp Hughes in 1907 (which would eventually become Fort Drum), to the "Coveted Rock of Somalia" and Operations Enduring Freedom and Iraqi Freedom. The museum is free and open to both soldiers and civilians.
Tibbetts Point Lighthouse
33435 City Route 6, Cape Vincent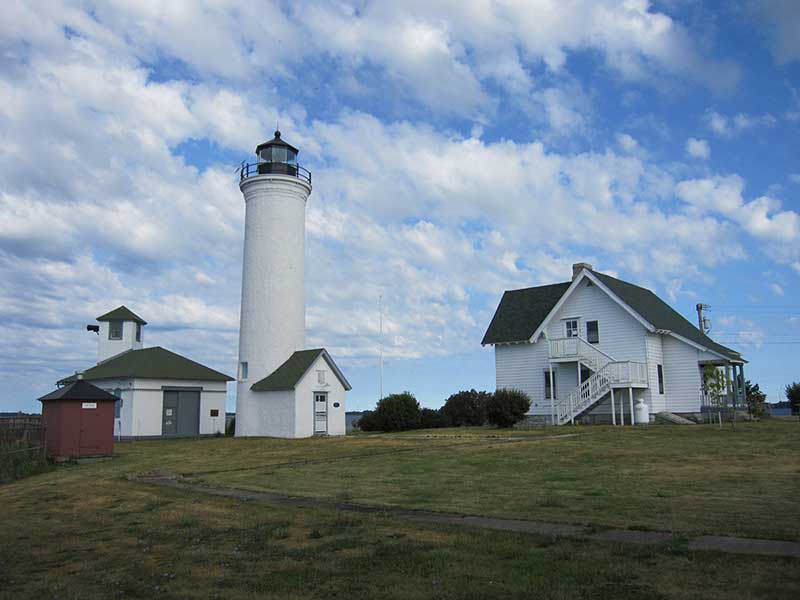 Photo by Chris M. Morris, CC BY 2.0
Tibbetts Point Lighthouse, listed on the National Register of Historic Places, marks the point where Lake Ontario meets the St. Lawrence River. Built in 1827, the lighthouse features the only original working Fresnel lens in Lake Ontario, one of only two in New York State. Visitors can use a provided telescope to view the surrounding areas, and there's also a summer hostel for overnight guests, located within the former lighthouse keepers' quarters.
Central Square Railroad Depot
132 Railroad Avenue, Central Square
Visit a fully restored original Ontario & Western Railroad depot built in 1909, featuring exhibits, artifacts, a telegraph, antique steam and diesel locomotives, a passenger car and a caboose. Outdoor exhibits include a circus car with circus exhibits inside, several track speeders, a Brill gas-electric rail car, and one of the last streetcars to operate in Syracuse.
Burrville Cider Mill
18176 County Rte 156, Watertown
Built in 1801 at the headwaters of the North Branch of Sandy Creek, the Burrville Cider Mill is one of Jefferson County's oldest establishments and continues to welcome visitors who flock here for its coveted apple cider and freshly fried cider doughnuts. The building was originally used as a sawmill and a gristmill, harnessing a 30-foot waterfall to turn a turbine that powered the mill equipment. It was converted to a cider mill in the 1940s and now uses electricity to power its gear, but guests can still see the old penstock (a water tunnel) and stroll the decks overlooking the roaring falls.
Cornwall Brothers Museum
36 Market Street, Alexandria Bay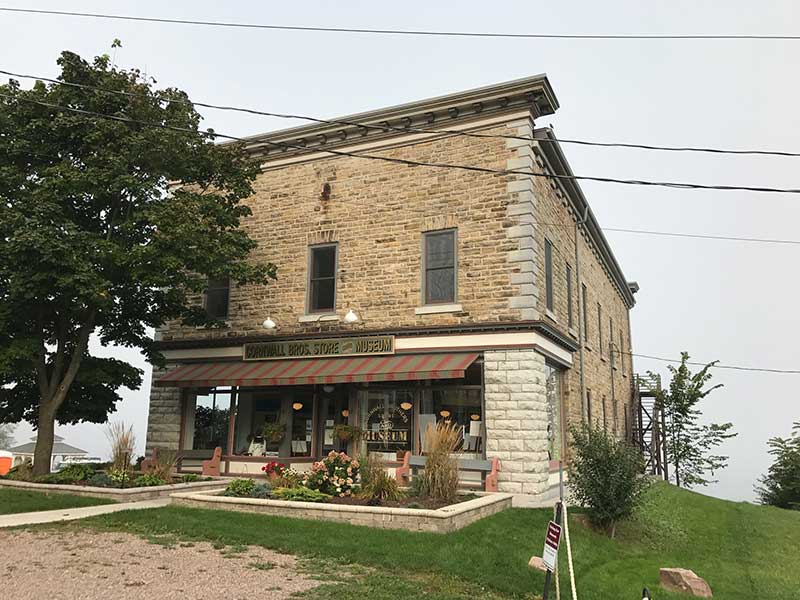 Photo by Steven Hamsness, CC BY-SA 4.0
This local history museum-the last remaining waterfront 19th century Alexandria Bay landmark-is housed in a historic 1866 stone building that was once a general store. It presents changing exhibits about river life, boating and local communities in the region. Exhibits depict the trades, crafts, and commerce of the settlers of the early village, reflecting the lifestyle of the people who shaped this destination from the mid-1850s through the mid-1950s; bi-annual feature exhibits showcase individuals and businesses which gained international recognition for the area. There's also a gift shop with regional books and gifts, as well as gallery presentations and special events in July and August.
Fort Brewerton / Oliver Stevens Block House Museum
US Route 11 & Route 37, Brewerton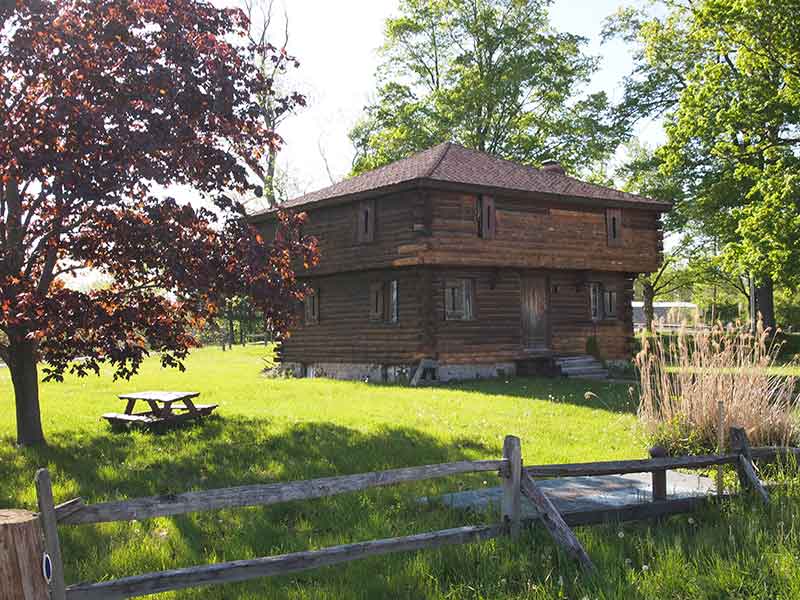 Photo by Rekaiser, CC BY-SA 4.0
Visit the remains of a strategic fortification built in 1759 by British Gen. Abercrombie during the French and Indian War, intended to stand watch over the Oneida River. Native American exhibits, antique tools and Civil and Revolutionary War artifacts are displayed in the Oliver Stevens Block House Museum, a replica of Brewerton's first settlement. There are special Christmas hours when the museum features antique toys and other Christmas items, as well as a tree that children can decorate. During the summer the museum also features a kid's history camp.
Stone Mills Museum
30950 NY-180, LaFargeville
The Stone Mills Museum is devoted to recounting the development of the agriculture industry in Northern NY, through collecting, preserving and displaying historical materials related to the farms and farmhouses of Jefferson, St. Lawrence, Lewis and Oswego Counties. The museum complex includes a sawmill, granary, schoolhouse, church and multiple display buildings housing the collection of artifacts, all maintained by the Northern New York Agricultural Historical Society.
Explore Upcoming Events Across New York »
Choose Which Region Of New York To Visit On Your Next Vacation »