Discover The Diverse Past Of New York City
The history of New York City dates back centuries to precolonial times, when it was inhabited by various bands of Native American Algonquian tribes. The first documented visit by a European was in 1524, by Giovanni da Verrazzano, a Florentine explorer in the service of the French crown, who sailed his ship La Dauphine into New York Harbor, claiming the area for France and naming it Nouvelle Angoulême. Decades later, in 1609, English explorer Henry Hudson rediscovered the region, sailing his ship the Halve Maen ("Half Moon" in Dutch) into New York Harbor while searching for the Northwest Passage to the Orient for the Dutch East India Company. He proceeded to sail up what the Dutch would name the North River (now the Hudson River).
Then in the winter of 1613-1614 the first non-Native American inhabitant of what would eventually become New York City arrived: Juan Rodriguez, a merchant from Santo Domingo, who came to trap for pelts and trade with the local population, as a representative of the Dutch. That same year the Dutch would claim the region for the Netherlands, dubbing it Nieuw-Nederland ("New Netherland"). A permanent Dutch presence then took hold in 1624, making New York the 12th-oldest, continuously occupied, European-established settlement in the continental U.S. Its vivid history only continued to flourish during subsequent centuries of British and American rule.
Today, New York City offers an incredible wealth of opportunity for historic tourism, from its many landmarks, memorials and heritage sites, to its legendary neighborhoods, buildings and museums. A short list of key attractions for the history-minded traveler include:
Ellis Island
Ellis Island, New York Harbor
For countless Americans, their family's history in the United States began at Ellis Island, which was the nation's busiest immigration station from 1892 to 1954, welcoming more than 12 million immigrants during that span. Before that, the island held Fort Gibson, then a naval magazine. Today much of the island's buildings are abandoned and closed to the public, however the Ellis Island National Museum of Immigration—located in the main building of the immigration complex—does welcome visitors. Exhibits include Hearing Room, Peak Immigration Years, The Peopling of America, Restoring a Landmark, Silent Voices, Treasures from Home and Ellis Island Chronicles. There are also three theaters used for film and live performances.
General Grant National Memorial
Riverside Drive and 122nd Street
Photo by Neal Timler, CC BY 2.0
The final resting place of President Ulysses Simpson Grant and his wife, Julia, General Grant National Memorial is the largest mausoleum in North America. Upon the death of the former president and victorious Civil War Union general in 1885, approximately 90,000 people donated more than $600,000 toward the tomb's construction in Riverside Park, in the largest public fundraising effort ever of its day. More than one million onlookers attended the parade and dedication ceremony of Grant's Tomb on April 27, 1897. Today a visitor center is located 100 yards to the west of the mausoleum, containing a bookstore, memorabilia, a movie about Grant's life, and restrooms.
The Statue of Liberty
Liberty Island, New York Harbor
A gift from the people of France designed by sculptor Frédéric Auguste Bartholdi and built by Gustave Eiffel, the Statue of Liberty was dedicated on Liberty Island on October 28, 1886, and has stood majestically in New York Harbor ever since. In the latest chapter of renovations to the site over the ensuing decades, in fall of 2016 construction started on a new $70 million, 26,000-square-foot Statue of Liberty museum on Liberty Island, set to open in 2019. The original torch (removed in 1984 due to leaking) will be relocated there, exhibits will be presented on the statue's construction and history, and there will be a theater offering an aerial view of the statue.
Federal Hall National Memorial
26 Wall Street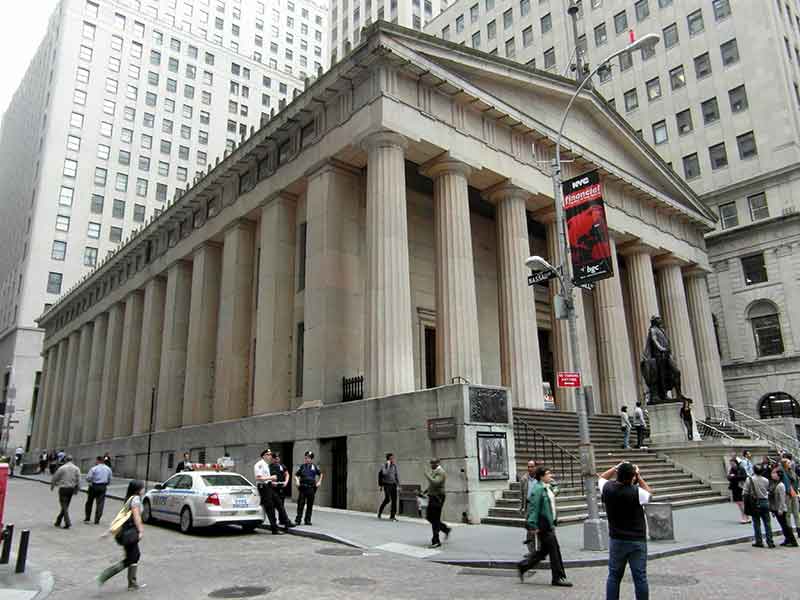 Photo by Tom Bastin, CC BY 2.0
New York's first City Hall once stood at 26 Wall Street, before being remodeled and renamed Federal Hall in 1788, when NYC was still the nation's capital. Then the following year, on April 30, 1789, George Washington was inaugurated there as the first U.S. president. The building continued to house city government after the capital moved to Philadelphia in 1790, until the building was demolished in 1812. The current structure that stands there now was erected as a customs house in 1842 and later served as a U.S. Treasury building from 1862 to 1920. Today, exhibits include George Washington's Inauguration Gallery, including the Bible used to swear his oath of office; Freedom of the Press, regarding the 1734-35 imprisonment and trial of printer and journalist John Peter Zenger; and New York: An American Capital, created by the National Archives and Records Administration.
The National 9/11 Memorial & Museum
180 Greenwich Street, World Trade Center
Honoring those who perished in the terrorist attacks of September 11, 2001, and February 26, 1993, the National September 11 Memorial & Museum is a somber place of remembrance. The 9/11 Memorial features two massive pools set within the original footprints of the Twin Towers, with 30-foot waterfalls cascading down their sides, and the nearly 3,000 names of those killed in the attacks inscribed into bronze parapets surrounding the pools. The 9/11 Memorial Museum, meanwhile, displays artifacts linked to the events of 9/11 and presents intimate stories central to the attacks and their aftermath, while exploring the global impact of 9/11 and its continuing significance.
Cooper Hewitt, Smithsonian Design Museum
2 E 91st Street
The only museum in the U.S. devoted exclusively to historic and contemporary design, Cooper Hewitt, Smithsonian Design Museum's exhibitions feature a rich mix of design objects from its permanent collection, unique temporary installations and dynamic interactive experiences. Its collections and exhibitions explore approximately 240 years of design aesthetic and creativity. The museum also offers an engaging calendar of events, including hands-on workshops, talks and family programs.
The Metropolitan Museum of Art
1000 Fifth Avenue
With a footprint of more than two million square feet within Central Park, New York City's most visited museum and attraction contains more than 5,000 years of art from around the world, including ancient Egyptian artifacts, exotic African and Oceanic antiquities, Native American relics, suits of glimmering medieval armor, and of course, a dizzying array of paintings, sculptures, drawings and other works of art by the great classical and contemporary masters. Be sure to check in advance for the current lineup of ever-changing temporary exhibitions.
Belvedere Castle
Central Park, mid-park at 79th Street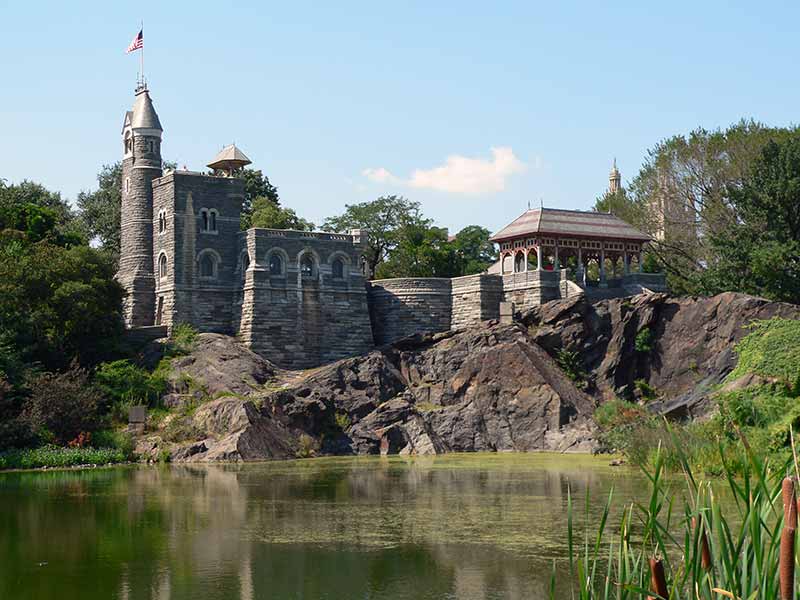 Photo by Stig Nygaard, CC BY 2.0
There are many reasons to explore New York's historic Central Park, including the Rococo-style Belvedere Castle, built in 1869 as a scenic lookout ("belvedere" is Italian for "beautiful view") and flight of Victorian fancy. Used since 1919 to gather atmospheric measurements by the National Weather Service, the stone fortress now houses the Henry Luce Nature Observatory and weather measuring devices. Its two balconies offer visitors superb panoramic views, including Central Park landmarks like the Delacorte Theater, the Great Lawn, the Turtle Pond and the Ramble.
Governor's Island
Governor's Island, New York Harbor
Another of the historic islands in Manhattan's adjoining New York Harbor is Governor's Island, located at the strategic confluence of the Hudson and East Rivers. Continental Army troops raised defensive works there in 1776 in a failed attempt to stave-off the oncoming British Navy, and later two fortifications—Fort Jay and Castle Williams—were erected there between 1796 and 1811. It remained a U.S. Army post until 1966, then became a major U.S. Coast Guard base through 1996. Today, the island is a vibrant summer seasonal venue for parkland, art, culture and live performances, open to the public from May 1 to October 31. Access from Manhattan is from the Battery Maritime Building in the Financial District; from Brooklyn, service runs from Brooklyn Bridge Park's Pier 6 at Atlantic Avenue.
South Street Seaport
Fulton & South Streets, Pier 17
South Street Seaport's roots date to the 17th century, when the neighborhood served as a vital Dutch West India Company outpost connecting the new and old worlds, catapulting New York City's economy into one of the most robust in the world. By the 1860s, the Seaport was a 24/7 commercial hub; ships from this era can still be seen at the South Street Seaport Museum. The 19th century also saw the opening of the Fulton Fish Market, one of the nation's busiest. These days the neighborhood maintains a balance between historic buildings and museum ships, and contemporary fine dining and shopping, making for an engaging daytime stroll or evening escape on its cobblestone streets.
Theodore Roosevelt Birthplace National Historic Site
28 East 20th Street
Managed by the National Park Service, the Theodore Roosevelt Birthplace National Historic Site is the boyhood home (1858-1872) of the only U.S. president born in Manhattan, where TR started life as a sickly, yet bright boy, who exercised rigorously to improve his health, beginning his lifelong passion for the "strenuous life." The original building was demolished in 1916, but upon Roosevelt's death in 1919 the lot was purchased and the house was rebuilt by noted architect Theodate Pope Riddle, who also designed the museum, situated next door, that completes the site. The house and museum include galleries and 1865 period rooms that tell the story of young Theodore Roosevelt, his ranch days, presidency and exploration period.
Museum of the City of New York
1220 5th Avenue, at 103rd Street
The Museum of the City of New York celebrates and interprets the city—spotlighting its distinctive character, diversity, opportunity and near-constant transformation—through exhibitions, school and public programs and collections. Current exhibitions include Posters and Patriotism: Selling World War I in New York, Activist New York and Rhythm and Power: Salsa in New York, as well as the 28-minute film Timescapes, during which the history of the city unfolds. In November 2017, the museum will unveil New York at its Core, a landmark three-gallery exhibition detailing Manhattan's 400+ year history.
New-York Historical Society Museum & Library
170 Central Park West, at Richard Gilder Way
While in the Central Park area, another worthy diversion is a visit to the New-York Historical Society Museum & Library, which houses four centuries of history and art, plus the only Children's History Museum in the area. Witness New York's rise to glory in the 18-minute panoramic film experience New York Story, presented in surround-sound on a 75-foot screen. Travel through time amid the exhibits and an entire floor of children's galleries all honoring the city's longtime appeal. And if you're there for research, browse more than two million manuscripts, 500,000 photographs and 400,000 prints. The museum's NYHistory Store sells unique New York City gifts and exhibition-related merchandise.
American Museum of Natural History
79th Street and Central Park West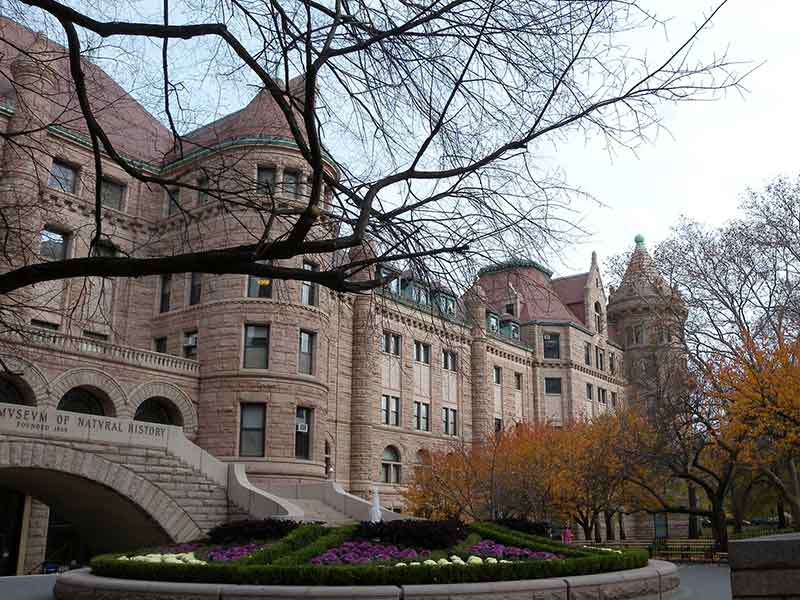 Quite simply, no trip to New York City is complete without an afternoon at the American Museum of Natural History, another of the grand old Central Park-area museums and still a vibrant, cutting-edge attraction today. The 2 million-square-foot museum complex comprises 28 interconnected buildings housing 45 permanent exhibition halls, in addition to a planetarium and a library. Its collections contain more than 33 million specimens of plants, animals, fossils, minerals, rocks, meteorites, human remains and human cultural artifacts, of which only a small fraction can be displayed at any given time. Don't miss the classic dinosaur exhibits, the Hall of Human Origins—featuring the skeleton of Lucy, one of the oldest-known human fossils—and the multiple halls devoted to Native American cultures. And of course, stop by the Hall of Ocean Life and marvel while looking up at the museum's iconic life-size model of a 94-foot blue whale.
Explore Upcoming Events Across New York »