Travels Through History: Greater Niagara Falls Region
Dubbed the "Honeymoon Capital of the World" more than 200 years ago, Niagara Falls has long attracted newlyweds, and tourists, alike. But in addition to the majestic waterfalls that gave the place its name, there is a long and rich history in the region, yielding a host of heritage sites, landmarks and museums to captivate visitors.
Niagara Falls' popularity as a wedding destination dates as far back as 1801, when former U.S. vice president Aaron Burr's daughter, Theodosia, chose a Niagara Falls honeymoon. Then in 1804, Jerome Bonaparte-Napoleon's brother-followed suit. Today, there are more than 50,000 Niagara Falls honeymoons each year.
But when it wasn't hosting happy couples or sightseers, the greater Niagara Falls area has welcomed armies, daredevils, runaway slaves, presidents, captains of industry and movie stars, too. Their presence remains to this day, especially at the following can't-miss historic travel stops:
Niagara Falls State Park
332 Prospect Street, Niagara Falls, NY 14303
Founded in 1885, Niagara Falls State Park is America's oldest state park, and offers visitors a range of activities that spotlight both the beauty and historical significance of the falls. Start with the park's Niagara Legends of Adventure Theatre, which presents a 30-minute film every 45 minutes that details the essential stories and characters from Niagara Falls' past, then see the park's historic places yourself while riding the Niagara Scenic Trolley. The 30-minute, three-mile guided ride provides a good overview of the park, and provides stops where you can disembark and explore on your own.
History buffs also shouldn't miss the Niagara Gorge Discovery Center, highlighting both natural and local history, through hands-on interactive displays, a 180-degree multi-screen theater experience and a towering rock climbing wall, complete with fossils and geological formations. There is also an elevator available to take you down to the ruins of Schoellkopf Power Station.
Schoellkopf Power Station
Listed on the National Register of Historic Places, the Schoellkopf Power Station got its start in 1853, when construction of a hydraulic canal was begun, to bring water from the Niagara River above the falls to the river bluff below. Sensing the future demand for electricity and the value of harnessing the Falls, Jacob F. Schoellkopf purchased the land for the hydraulic canal in 1877, for $71,000, then set about building what would become one of the largest hydroelectric power plants of the early to mid-20th century, opening in 1895.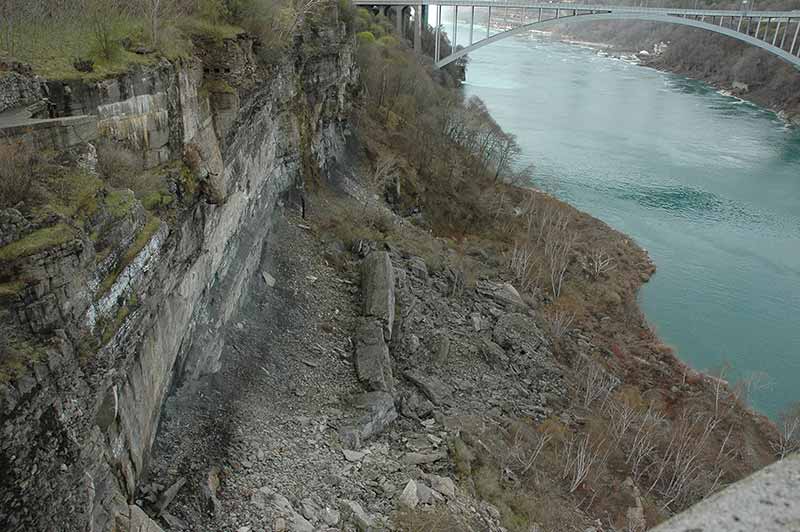 Photo by Steve Moskowitz, CC BY-ND 2.0
That is, until June 7, 1956, when water seeping into its back wall caused the dramatic collapse of the southern two-thirds of the station (Powerhouses 3B and 3C) into the Niagara River gorge. The ruins are still accessible today for explorers hiking the Niagara Falls State Park system's American Falls Gorge Trail. The plant's original elevator shaft has also been recently restored, and a working elevator once again takes visitors to the ruins, from the Niagara Gorge Discovery Center above. (East Bank of Niagara River, 1,600 feet downriver from Rainbow Bridge, Niagara Falls, NY; refer to Niagara Gorge trail map for access.)
Old Fort Niagara State Historic Site
Fort Niagara State Park, Youngstown, NY 14174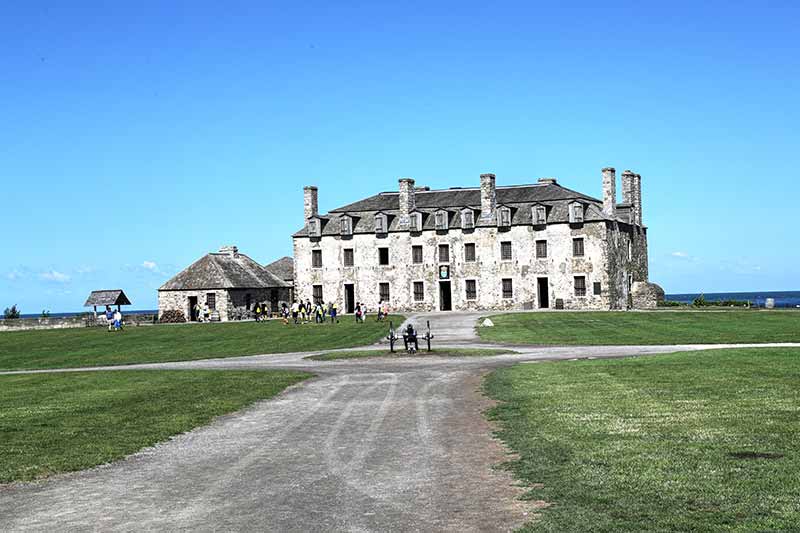 Photo by Gardener41, CC BY-SA 2.0
Due to its strategic location at the mouth of the Niagara River-controlling access to the Great Lakes and the westward route to the North American heartland-Old Fort Niagara has been occupied by the French, British and American armies multiple times over the years, beginning with the French in 1679, who built the "French Castle" there in 1726. Britain took control in 1756 and held it until 1796, when it was yielded to the U.S., before briefly regaining it for three years during the War of 1812. Held in American hands for good as of 1815, it later served as a border post, then as a training station and active barracks from the Civil War until its closing in 1963. Visitors can see the oldest buildings in the Great Lakes region there, while experiencing living history programs, exhibits and special events.
Theodore Roosevelt Inaugural National Historic Site
641 Delaware Ave, Buffalo, NY 14202
On September 14, 1901, Theodore Roosevelt took the oath of office as President of the United States at Buffalo's Ansley Wilcox House, after the assassination of Pres. William McKinley at the Pan-American Exposition. The house, formerly an Army barracks dating to 1838, was dubbed the Theodore Roosevelt Inaugural National Historic Site in 1996, and now offers a museum displaying items from the fateful 1901 exhibition, the Wilcox family and all things T.R. related, including a recreation of the office Roosevelt used during his presidency. Roosevelt's desk is amusingly interactive, allowing you to send emails to yourself.
Buffalo History Museum
One Museum Court, Buffalo, NY 14202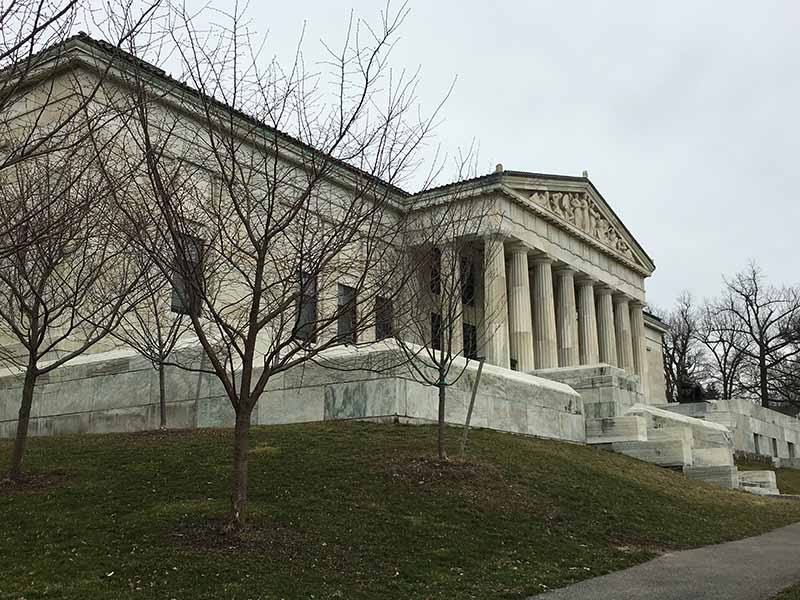 Housed within a building constructed for the 1901 Pan-American Exposition where Pres. McKinley was assassinated, the Buffalo History Museum offers exhibits on three floors, including the Rotary Gallery's model trains, the Pioneer Gallery, the Erie County Room, the State Court, the Community Gallery, Native American Gallery, Neighbors and Bflo Made. More recently, a recreation of Tim Russert's office opened in October 2014, after its initial installation at the Newseum in Washington, D.C. The museum's Resource Library is also a highlight for historians, with notable document collections, 100,000 artifacts, 20,000 books, 50,000 plans, 6,500 newspaper microfilms and myriad drawings, maps, posters, prints, pamphlets and vital records. The library also safeguards the gun used to shoot Pres. McKinley in 1901; it is viewable by appointment only.
Buffalo And Erie County Naval & Military Park
One Naval Park Cove, Buffalo, NY 14202
Photo by Christine K, CC BY-ND 2.0
Located on the shore of the Buffalo River, this museum is home to multiple decommissioned U.S. Naval vessels, including the Cleveland-class cruiser USS Little Rock, the Fletcher-class destroyer USS The Sullivans, and the submarine USS Croaker. There's also a variety of smaller vehicles, vessels and aircraft on display, including an M-41 tank, UH-1 "Huey" helicopter, M-84 armored personnel carrier and several fighter jets. The Buffalo And Erie County Naval & Military Park also houses displays of Marine Corps, Polish Armed Forces and Vietnam memorabilia, U.S. Civil War and WWI displays, model military vehicles and tributes to Western NY Medal of Honor Recipients, as well as former naval officer and previous owner of the Buffalo Bills, Ralph C. Wilson Jr.
Buffalo Transportation / Pierce-Arrow Museum
263 Michigan Ave., Buffalo, NY 14203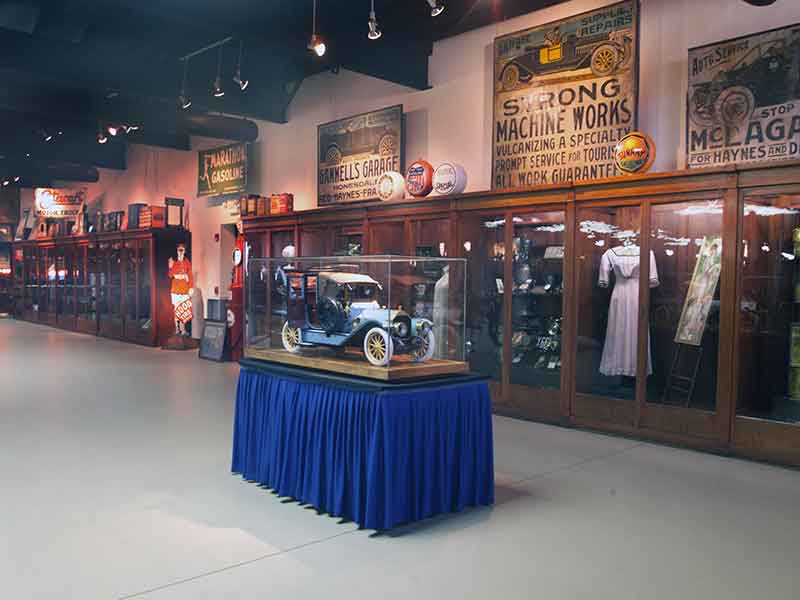 Pierce-Arrow got its start in 1890 by building birdcages, then evolved into a bicycle and car manufacturer from 1897 to 1938, morphing into the Pierce-Arrow Motorcar Company. In that spirit, the Pierce-Arrow Museum chronicles the company's history, as well as Buffalo's broader transportation heritage, with a massive collection of historic automobiles, bicycles, Pierce-Arrow memorabilia and documents, focusing on Buffalo-made automobiles by Pierce-Arrow, the E.R. Thomas Motor Company and more. Since 2002 the museum has been planning and fundraising in order to build the Frank Lloyd Wright Filling Station, which was designed by the famous architect in 1927 for the corner of Michigan Avenue and Cherry Street in downtown Buffalo, but never erected.
Flight of Five Locks / Lockport Locks and Erie Canal Cruises
Erie Canalside Banquets, 210 Market Street, Lockport, NY 14094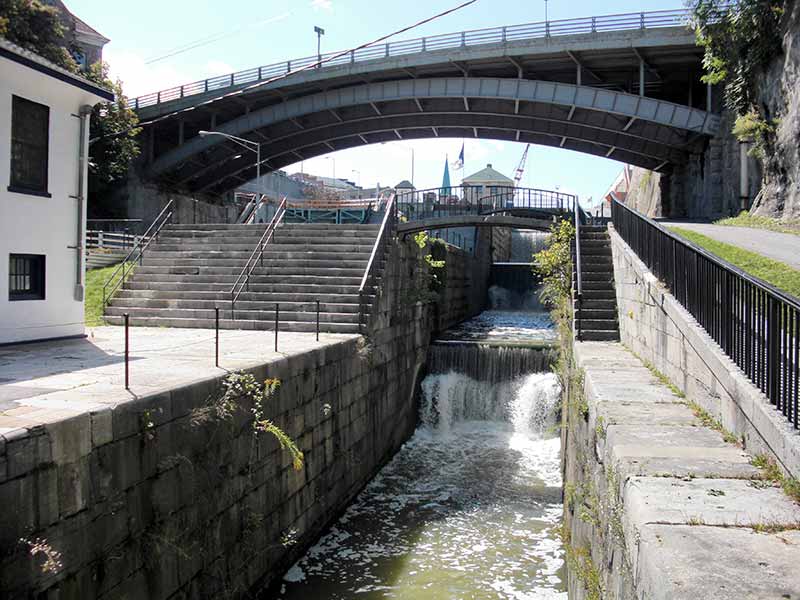 Photo by James G. Milles, CC BY 2.0
Lockport's recently restored Flight of Five Locks is a staircase of five canal locks, ascending a height of 60 feet within a distance of only 550 feet, and is one of the best-preserved structures remaining from the Enlarged Erie era (1836-1842). For an immersive canal lock experience, take a narrated two-hour boat ride past multiple historic sites and the five original locks on a Lockport Locks and Erie Canal Cruise, which includes being raised and lowered 50 feet in the only double set of locks on the historic Erie Canal. Group, banquet, wedding and party bookings are also available, with events held either on the boats or for larger gatherings, in the cruise company's restored 1840s banquet facility, which holds up to 200 guests and offers more than 100 windows overlooking the canal.
Erie Canal Discovery Center
24 Church Street, Lockport, NY 14094
Another restored 1840s Lockport canal building houses the Erie Canal Discovery Center, detailing the creation of the canal and locks in the 19th century. Start with Gateways East & West, a 15-minute film about the building of the canal, the Flight of Five and the Deep Cutting, a seven-mile channel hand-cut through solid rock, pausing during the movie to board a "packet boat," for a simulated night through one of the 1820s locks. Interactive displays allow visitors to try their hand at moving a boat through the locks, hear from canal workers and builders, explore cutting through bedrock and test their canal knowledge. Visitors can also see a portion of the Charles Rand Penney Collection of historic Niagara County artifacts on the third floor.
Frank Lloyd Wright's Martin House Complex
125 Jewett Parkway, Buffalo, NY 14214
The Darwin D. Martin House Complex, a.k.a. the Darwin Martin House State Historic Site, was designed by renowned architect Frank Lloyd Wright and built between 1903 and 1905. It is considered one of the key designs from Wright's Prairie School era, ranking with The Guggenheim in New York City and Fallingwater in Pennsylvania among his finest works. (Wright himself referred to the Martin House complex as "the opus" and kept the site plan pinned to his drawing table for 50 years.)
Under ongoing restoration since 1996, the complex even features a rebuilt pergola, conservatory and carriage house, which were demolished decades ago. And in addition to touring the historic six-story home, there are also multiple collections to view: furnishings and decorative objects, including a subset collection of Japanese ukiyo-e color woodblock prints; art glass of the Martin House Complex; artifacts and archival materials; and digital collections.
Herschell Carrousel Factory Museum
180 Thompson St., North Tonawanda, NY 14120
The factory complex once used by legendary carousel maker Allan Herschell Co. is now the Herschell Carrousel Factory Museum, one of the last existing factories in the U.S. for the production of wooden carousels. Opened in 1915, the complex contains a large carving shop, a woodworking shop, a paint shop, a storage area, an upholstery shop, a machine shop and a roundhouse, where carousels were assembled and tested before shipping. Visitors can ride vintage carousels, learn about the organs and music that accompanied the rides, witness the evolution of carousel animals over 60 years in the Lockman Collection, and explore more modern rides at the Kiddieland Testing Park Exhibit.
Arcade & Attica Railroad
278 Main Street, Arcade, NY 14009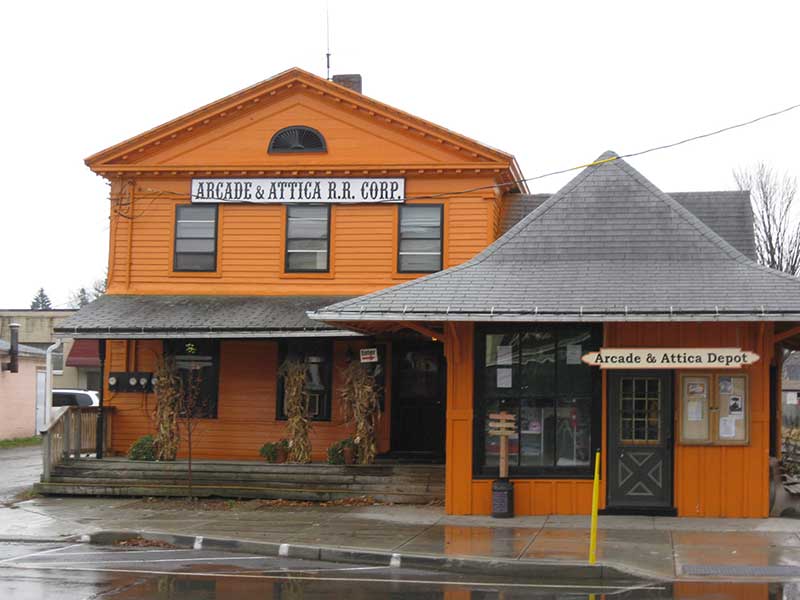 Photo by Doug Kerr, CC BY-SA 2.0
Take a 90-minute historic and scenic ride on New York State's last operating steam engine excursion, departing from the restored Arcade & Attica Railroad station and depot. Inside the station, enjoy the many displays honoring America's railroading history, including antique railroad lanterns, switch locks, an old switch stand and vintage photographs. Purchase your train tickets at the authentic ticket office, then depart for your journey on either the steamer or one of two WWII-era diesel engines.
Medina Railroad Museum
530 West Avenue, Medina, NY 14103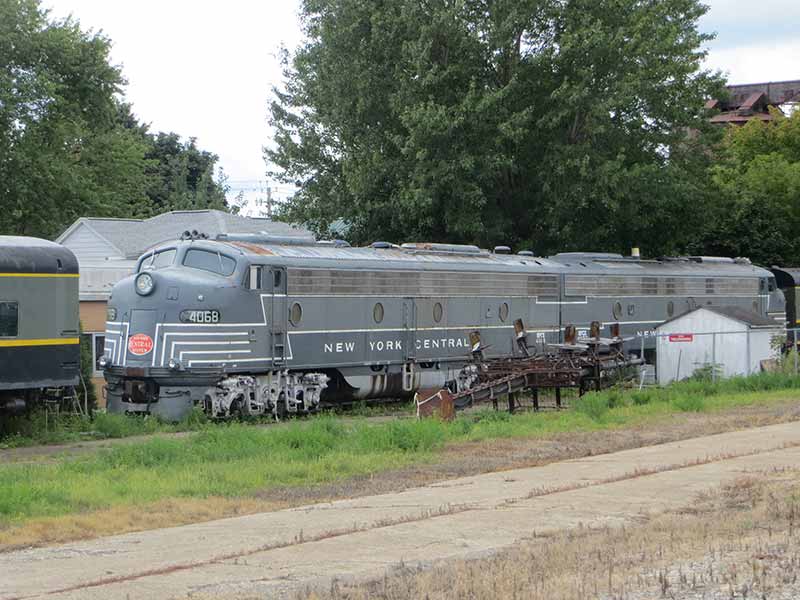 Photo by David Wilson, CC BY 2.0
Locomotive lovers should also be sure to check out the Medina Railroad Museum, the largest railroad and toy train museum in New York State. Formerly a NYCRR and HRRR freight depot, the museum features countless railroad artifacts and one of the largest miniature train layouts in the nation. A series of themed year-round train excursions also offer two-hour voyages in and around the historic Erie Canal region, including a Terror on the Tracks ride for Halloween and a Polar Express ride during Christmas.
Explore Upcoming Events Across New York »
Choose Which Region Of New York To Visit On Your Next Vacation »