Hidden In The Hudson Valley: Museums, Historical Sites & More
Due to its eponymous natural waterway offering convenient north-south transport and its close proximity to New York City, the Hudson River Valley has played a vital role in New York history since the earliest Dutch settlers, well up through the American Revolution and the 19th century industrial boom. Today visitors to the region are presented with a dizzying array of historic landmarks, eclectic museums, Gilded Age mansions and odes to the militaria of yesteryear.
There's truly something for everyone in the Hudson River Valley, especially if you have a fondness for the past. Noteworthy tour stops for the history-minded traveler include:
Vanderbilt Mansion National Historic Site
81 Vanderbilt Park Road, Hyde Park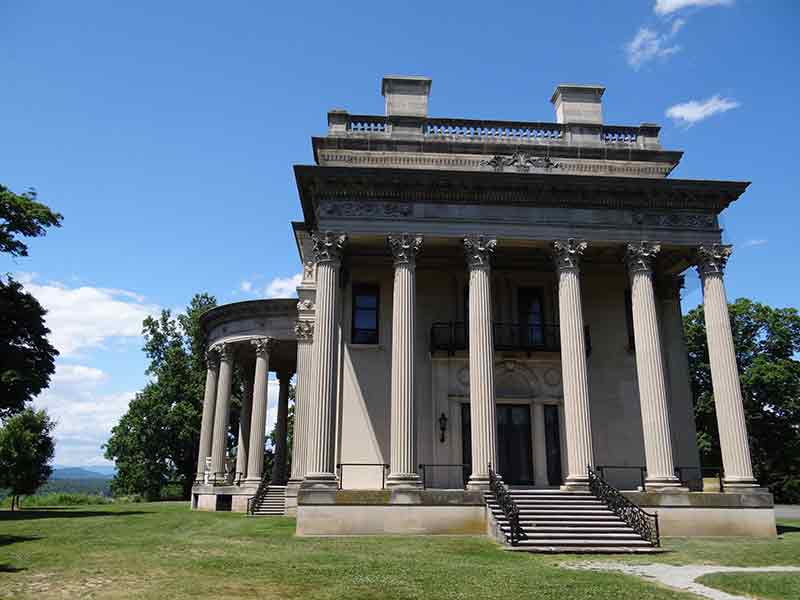 Photo by Esther Westerveld, CC BY 2.0
Historically known as Hyde Park, Vanderbilt Mansion National Historic Site is one of the Hudson River Valley region's oldest estates, serving as home to socially prominent New Yorkers for nearly two centuries. The National Park Service (NOS) maintains over 200 acres of the original property, including historic buildings, original furnishings, manicured landscapes, natural woodlands, formal gardens and associated documents. The centerpiece of the estate is the 54-room Vanderbilt Mansion-home of Frederick William Vanderbilt and his family from 1895 to 1938-a triumph of Beaux-Arts design that is now a remarkably complete example of a Gilded-Age country home, particularly its architecture, interiors, mechanical systems, road systems and landscape.
Franklin D. Roosevelt Home, Presidential Library and Museum (Hyde Park)
Springwood - 114 Estates Lane, Hyde Park
Franklin D. Roosevelt Home, Presidential Library and Museum - 4097 Albany Post Road, Hyde Park
Hyde Park is also home of a multifaceted historic site that features Springwood-the palatial home and estate of Pres. Franklin D. Roosevelt-and the Franklin D. Roosevelt Presidential Library and Museum, the only presidential library used by a sitting president, conceived and built under FDR's direction and opened to the public in 1941. The library fosters research and education on the life and times of Franklin and Eleanor Roosevelt and their continuing impact on contemporary life, through its archives, museum, education resources and public programs. Special interactive exhibits, immersive audio-visual theaters and rare artifacts further convey the dramatic story of the Roosevelt era.
Top Cottage / Val-Kill Cottage
Top Cottage - 114 Estates Lane, Hyde Park
Val-Kill Cottage - 54 Val-Kill Park Road, Hyde Park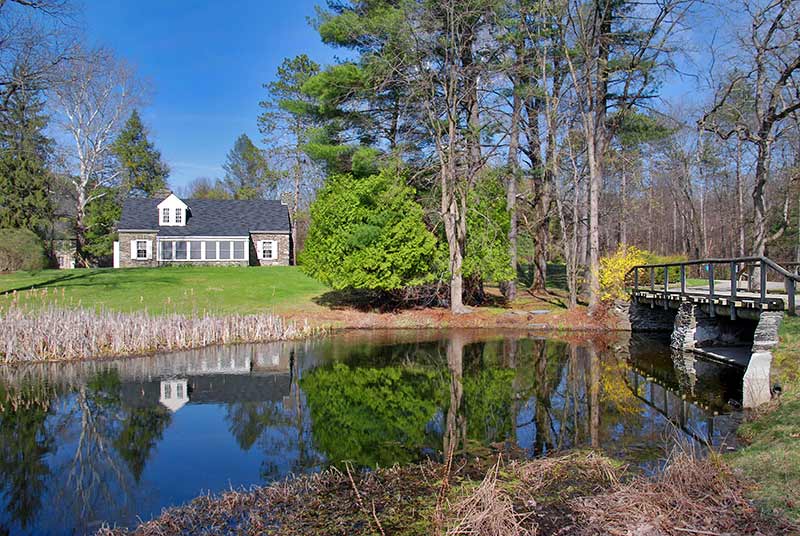 Photo by Ron Cogswell, CC BY 2.0
The massive expanse of Hyde Park also holds Top Cottage, built by FDR in 1937 as a retreat and future retirement home, as well as Val-Kill Cottage, Eleanor Roosevelt's own personal hideaway and her permanent home after FDR's death in 1945. Both served as settings for entertaining countless dignitaries, artists and various members of the Roosevelt inner circle. Guided tours offer access to the Val-Kill cottage: The experience begins with an introductory film, followed by a 45-minute tour of the cottage; visitors may also view the permanent exhibit, Eleanor Roosevelt and Val-Kill: Emergence of a Political Leader, in the adjoining Stone Cottage, as well as other exhibits in the Playhouse. Guided tours of Top Cottage run two hours, including a shuttle bus ride to the site, culminating in FDR stories and a Q&A session on the porch where the former president would often sit and contemplate.
Olana State Historic Site
5720 State Route 9G, Hudson
Hudson River School painter Frederic E. Church designed Olana-his family home, studio and estate-as an integrated environment fusing architecture, art and landscaping. Now a National Historic Landmark, Olana remains a hallmark of naturalistic landscape design, with five miles of carriage roads and a Persian-inspired house at its summit, offering majestic panoramic views of the Hudson River Valley. Visitors can meander through the 250-acre artist-designed grounds, take a tour of the house and surrounding gardens, and view temporary exhibitions devoted to contemporary photography presented in both the main house and gallery. There's also a 17-minute video on the property, a permanent orientation exhibit and a variety of educational programs in the Wagon House Education Center, including a free backpack program with a variety of projects for children.
Old Rhinebeck Aerodrome
9 Norton Road, Red Hook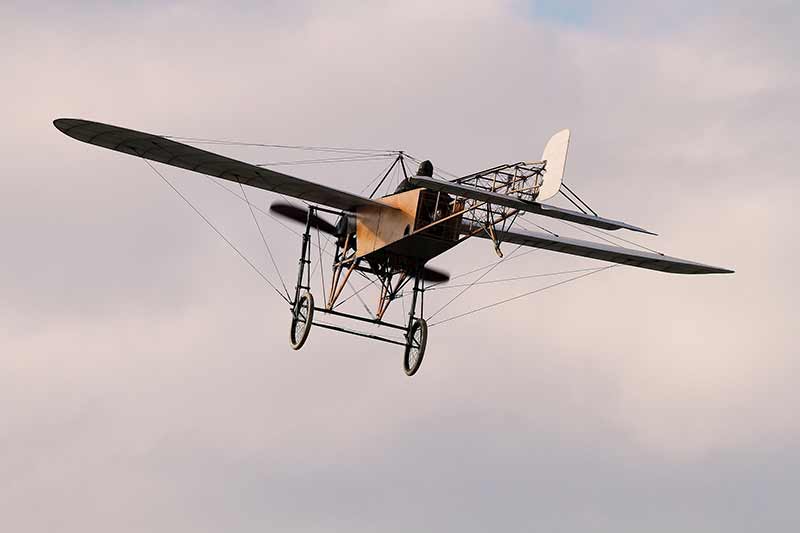 A vibrant living museum dedicated to antique aviation, the Old Rhinebeck Aerodrome holds one of the largest collections of early aeroplanes in the world, with 60 vintage aircraft, plus automobiles, motorcycles, early engines and other related memorabilia spanning 1900 to 1939. Four museum buildings hold static displays of aircraft from the pioneer, WWI and Lindbergh/barnstorming eras, open seven days a week from May to October. Organizers also frequently hold weekend air shows (weather permitting): The Saturday shows chronicle the history of flight, with pioneer, WWI and Lindbergh-era aircraft taking off, and when weather allows, a 1909 Bleriot (the oldest flying aircraft in the U.S.) also takes to the air. The Sunday shows, meanwhile, feature a WWI dogfight and barnstorming aircraft. Biplane rides are available for an added fee in the museum's 1929 New Standard D-25, pending availability.
Motorcyclepedia Museum
250 Lake Street, Newburgh
This 85,000-square-foot mecca for everything with two wheels and a motor contains more than 500 motorcycles from 1897 onward, including many from the first half of the 20th century. The Motorcyclepedia places special emphasis on Indian motorcycles, including a model on display from every year of the original Indian brand from 1901 to 1953, as well as an Indian Papoose, a 1914 Hendee Special, an Indian Ace and an M-1 Military Prototype. Housed on two floors of Newburgh's historic Miron building, the museum is divided into several galleries covering various themes and time periods, including choppers, police and military galleries, with rarities like an 1897 De Dion-Bouton trike and a 1901 Thomas scattered throughout. Two Walls of Death, or Motordromes, are also set up on the lower floor.
Hudson River Maritime Museum
50 Rondout Landing, Kingston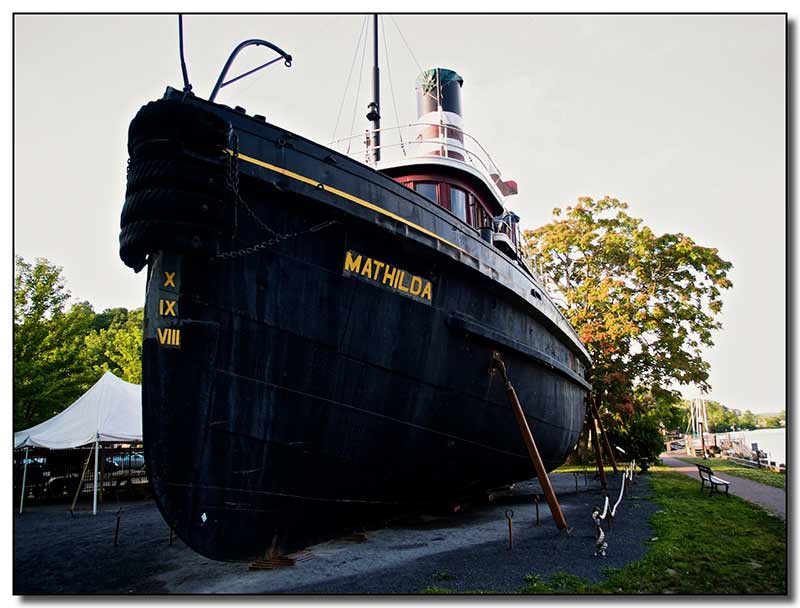 Photo by Waywuwei, CC BY-ND 2.0
The Hudson River Maritime Museum features collections devoted to the history of shipping, boating and industry on the Hudson and its tributaries, with exhibits that include various small craft, artifacts of river steamships like the Mary Powell, a research library, ice-harvesting tools and maps, paintings and vintage sketches. The 1898 steam tugboat Mathilda is displayed in the yard next to the museum and in summer months, boat trips are available to nearby Rondout Lighthouse. The Hudson River sloop Clearwater makes the museum its winter home port, while many historic reproduction vessels like the Onrust and Half Moon are frequent visitors as well. The museum is also home to the Kingston High School Crew Team, the Rondout Rowing Club and the Kingston Sailing Club.
FASNY Museum of Firefighting
117 Harry Howard Avenue, Hudson
Featuring more than 90 pieces of apparatus on display, the 50,000-square-foot FASNY Museum of Firefighting is one of the premiere collections of firefighting objects in the world, dedicated to New York firefighting history. Highlights include: a 1731 Newsham Pumper (the oldest documented fire engine in New York State); an 1855 John Rogers Double-Decker Pumper, complete with stained-glass lamps; a 1928 Ahrens Fox Pumper; and a 1939 American LaFrance Scout 500 Series. Another 50 or so more pieces are on display at any given time. Children's activities include creative play-on fire engines, interactive activities and the McCadam Cheese Fire Safety Discovery Room.
Pollepel Island / Bannerman's Castle
Bannerman Island, Cold Spring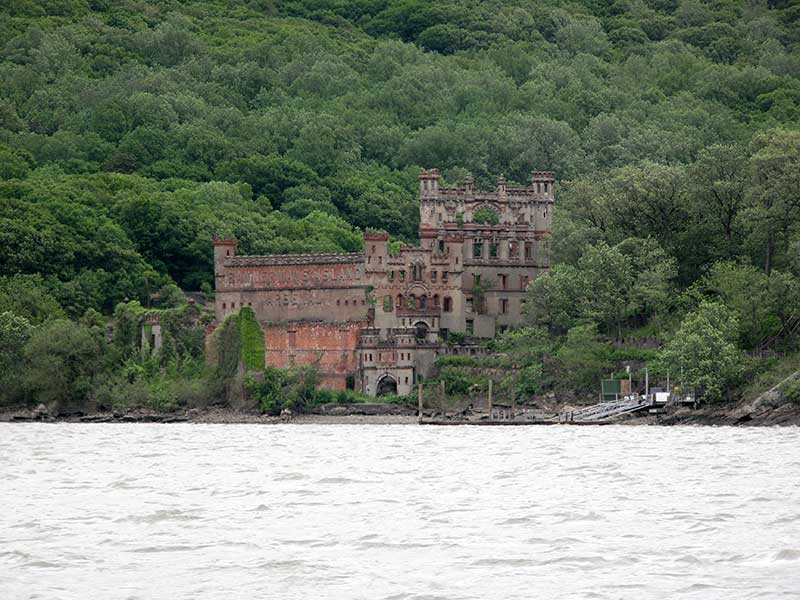 Photo by Luke . Gordon, CC BY 2.0
This 6.5-acre island in the Hudson is famous for Bannerman's Castle, an abandoned military surplus warehouse built in 1901 by Francis Bannerman VI in the form of an elaborate castle, with a smaller castle serving as Bannerman's private residence. The main castle served as a giant billboard for all who passed it, with the words "Bannerman's Island Arsenal" cast into one towering wall. Bannerman died in 1918, halting any further construction, and then an August 1920 explosion from 200 artillery shells permanently damaged the structure. The castle is now the property of the New York State Office of Parks, Recreation and Historic Preservation, and is mostly in ruins, further exacerbated by a 2009 partial collapse. The Bannerman Castle Trust provides guided hard-hat walking tours on the island, with access either by passenger tour boat or as part of a guided kayak excursion.
Stony Point Battlefield State Historic Site
44 Battlefield Road, Stony Point
Another key Hudson Valley landmark for lovers of military history is the site of the Battle of Stony Point, one of the last Revolutionary War battles in the northeastern colonies. On July 16, 1779, American Brigadier General "Mad" Anthony Wayne led his corps of Continental Light Infantry-armed with only bayonets-in a daring midnight attack on the British encamped there, seizing fortifications and taking the soldiers and camp followers at the British garrison as prisoners, thereby ending British control of the Hudson. There's also the Stony Point Lighthouse, built there in 1826, which is the oldest lighthouse on the Hudson River. The site now features a museum, which offers exhibits on the battle and the Stony Point Lighthouse, as well as interpretive programs, such as reenactments highlighting 18th century military life, cannon and musket firings, cooking demonstrations, children's activities and blacksmith demonstrations.
Sunnyside
3 West Sunnyside Lane, Irvington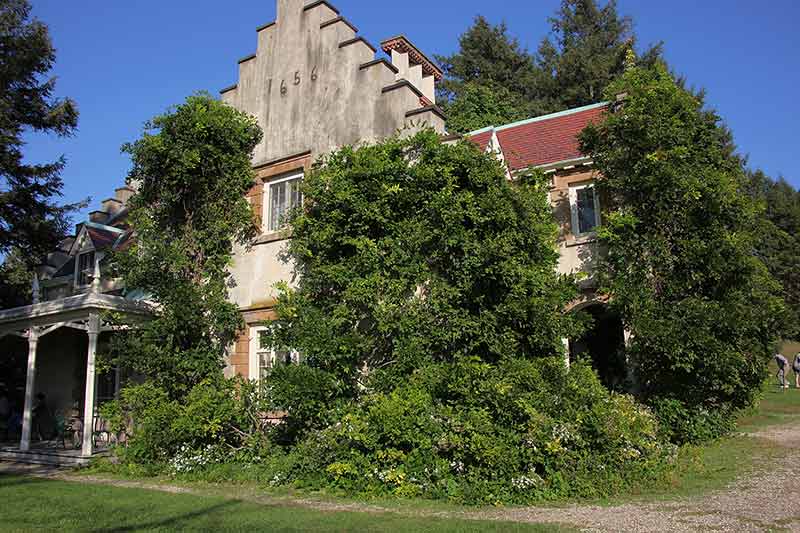 Photo by Tim Evanson, CC BY-SA 2.0
For an intimate look into the life of one of the Hudson Valley's most iconic writers, visit Tarrytown and stop in at Sunnyside, home of Legend of Sleepy Hollow author Washington Irving. Originally a Dutch farmer's house, the meticulously restored home is filled with the Irving's possessions, including his writing desk and books. Guides, costumed in formal dress of the period, explain how Irving designed the house and grounds himself to reflect his romantic views of art, nature and history. The house is now property of the non-profit Historic Hudson Valley and open for tours. Seasonal events are also offered.
Philipsburg Manor
381 N Broadway, Sleepy Hollow
Sleepy Hollow's colonial past can also be felt in every brick and timber at Philipsburg Manor, now a living history museum where visitors enter the year 1750, when the manor was a thriving milling and trading complex that was home to 23 African slaves. Tour the 300-year-old manor house, with its dairy, kitchens, bedchambers, warehouse rooms and parlor, complete with period artifacts and touchable reproductions. In the activity center, explore the foodways, textile production techniques and medicinal practices of the manor's inhabitants. Shell beans, work flax into linen and produce a tray of ship biscuits, or enter the Dutch barn and help thresh some wheat. Dramatic tales of the slaves who lived there round out the immersive experience.
Lyndhurst
635 South Broadway, Tarrytown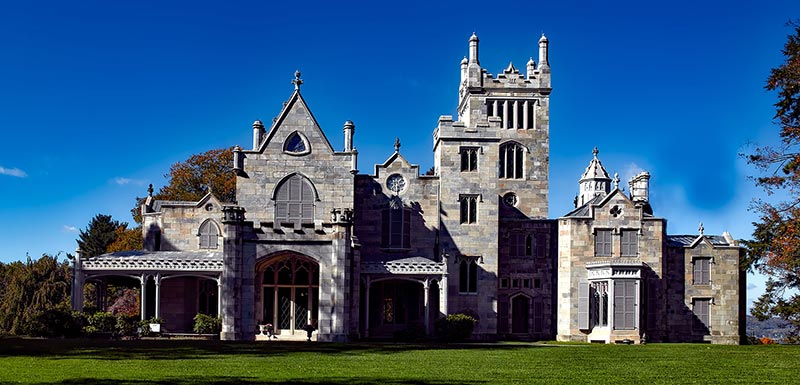 While in Tarrytown, another can't-miss historic spot is Lyndhurst, one of America's finest Gothic Revival mansions, overlooking the Hudson River. Designed in 1838 by Alexander Jackson Davis, its architectural brilliance is complemented by the park-like landscape of the estate and its comprehensive collection of original decorative arts. Noteworthy occupants of the site, now part of the National Trust for Historic Preservation, included former New York City mayor William Paulding, merchant George Merritt and railroad tycoon Jay Gould. Lyndhurst's vast collection of art, antiques and furniture have remained largely intact due to the mansion's use primarily as a country residence; in most instances, the furnishings are original to the house, with more than 50 pieces designed by the architect himself.
Explore Upcoming Events Across New York »