Uncover The Legacies Of The Chautauqua-Allegheny Region At These Historical Attractions
New York's Chautauqua-Allegheny Region has a longstanding relationship with industries such as oil and gas, agriculture, and manufacturing, which are commemorated by the region's numerous historical attractions. Other landmarks and tour stops honor local heroes (Lucille Ball is a biggie), Native American ancestors and the area's former reliance on the railroads. It makes for a diverse, rewarding region for traveling history buffs, especially those who appreciate 19th-century architecture. Some highly recommended spots for historical experiences include:
Dunkirk Historical Lighthouse and Veterans Park Museum
1 Lighthouse Point Drive, Dunkirk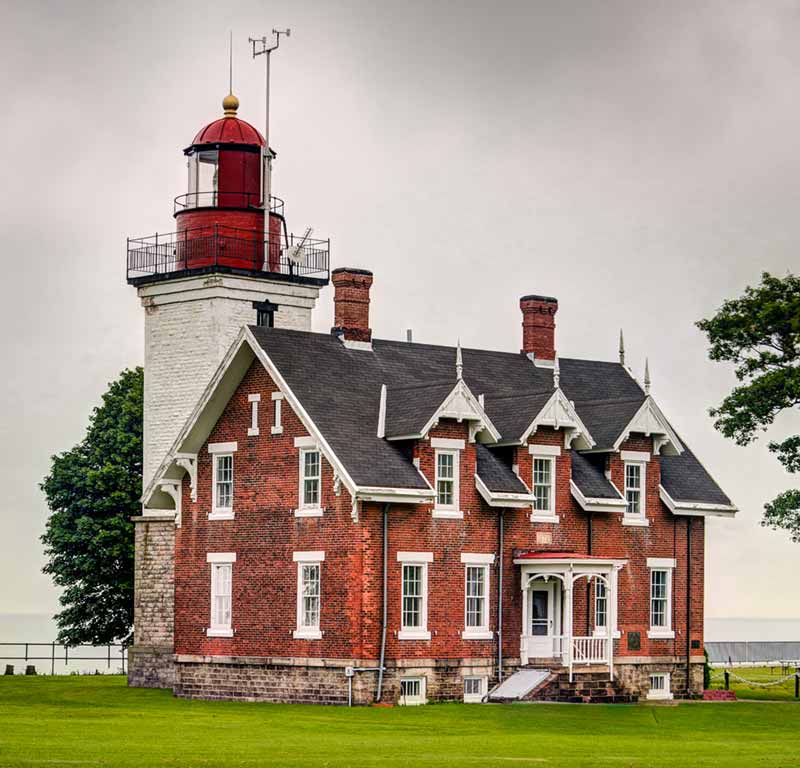 Photo by Larry Lamb, CC BY-SA 2.0
Tour a working lighthouse on Lake Erie that dates back to 1875, with a 61-foot tower that still has its original third-order Fresnel lens. The light's 27-mile range makes Dunkirk one of the most prominent lighthouses on Lake Erie. There are also displays in the attached veteran's museum (featuring a large collection of military artifacts) and the lighthouse keeper's house. Guided tours are available and special events are periodically offered.
Grape Discovery Center
8305 West Main Street, Westfield
Westfield's Grape Discovery Center features exhibits and displays that tell the story of more than 150 years of grape-growing in the Lake Erie Concord Grape region, the oldest and largest Concord grape-growing region in the world, and the largest grape-growing region east of the Rockies. Experience interactive exhibits on the grape and wine industries and their heritage. While there, be sure to taste the 100% pure Concord grape juice, wines from Lake Erie Wine Country and other grape products. Then hit the museum store to take home some grapey goodness.
Fenton History Center
67 Washington Street, Jamestown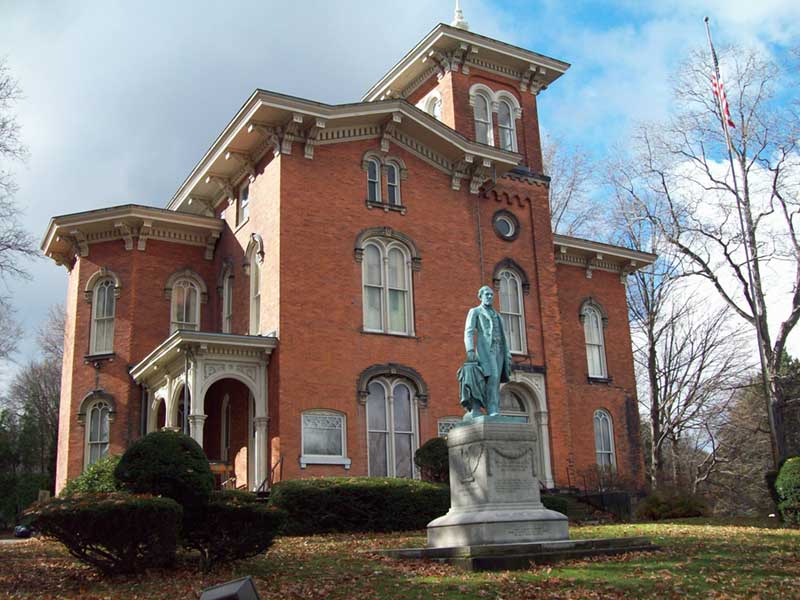 Formerly the 1863 mansion of U.S. Congressman and New York State Governor Reuben E. Fenton, the Fenton History Center features local history exhibits, period rooms, the resources collection, a library/archives and various educational resources. Ongoing exhibits include Welcome to Jamestown, The Golden Age of Chautauqua Lake, Implements for Self-Sufficiency, and A Child's Life. Temporary exhibits and programs recognize local figures who have gained widespread reputations in a variety of pursuits, including Supreme Court Justice Robert H. Jackson, artist/naturalist Roger Tory Peterson, actress/comedienne Lucille Ball, political satirist Mark Russell, cartoonist Brad Anderson, singer Natalie Merchant, and her band, 10,000 Maniacs. There are also special events throughout the year.
Lucille Ball Desi Arnaz Museum and National Comedy Center
2 West 3rd Street, Jamestown
A tribute to Jamestown's most famous daughter, the Lucille Ball Desi Arnaz Museum and National Comedy Center offers a personal look at the lives and careers of TV's first couple of comedy-Lucille Ball and Desi Arnaz-with permanent and interactive exhibits. Check out Desilu Studios, devoted to the I Love Lucy TV series, with complete re-creations of Lucy and Ricky Ricardo's New York City apartment and the Hollywood hotel suite where Lucy pantomimed with Harpo Marx and set her nose on fire, plus an interactive Vitameatavegamin set, a screening area, vintage memorabilia and costumes worn on the show. For parties and special events, you can even rent the Tropicana Room, a re-creation of Ricardo's Manhattan nightclub.
Robert H. Jackson Center
305 E Fourth Street, Jamestown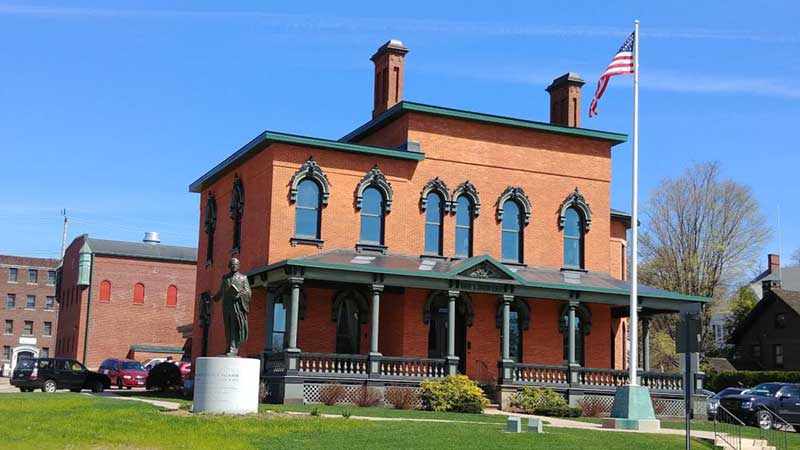 Photo by Robert H. Jackson Center, CC BY-SA 4.0
The Robert H. Jackson Center is the former home of its namesake, a country lawyer from Chautauqua County who went on to have a significant impact on the world and national affairs as solicitor general, U.S. attorney general, U.S. supreme court justice and perhaps most notably, as chief U.S. prosecutor at the Nuremberg trials. Permanent displays include Nuremberg: Photos by Raymond D'Addario, Say I Taught Thee: The Life of Mary R. Willard (Jackson's high school English teacher and mentor), and Perpetrators, an exhibit of lithographs created by artist Sidney Chafetz depicting individuals who carried out the policies of the Third Reich during World War II. Various temporary exhibits provide further context.
McClurg Museum
15 Main Street, Westfield
This restored 1818 mansion, built by pioneer James McClurg, the wealthy son of a Pittsburgh industrialist, is now the headquarters of the Chautauqua County Historical Society. The 14-room Federal-style mansion contains a research library and three floors of exhibits that include military artifacts, farm and craftsman tools, toys, pioneer kitchen and Native American artifacts. Museum displays include some of the earliest artifacts and archival materials relating to the settlement and subsequent development of the county, as well as fine art, antique furnishings, textiles and more. For children, there's even a Victorian nursery, complete with a vintage doll collection.
Seneca-Iroquois National Museum
814 Broad Street, Salamanca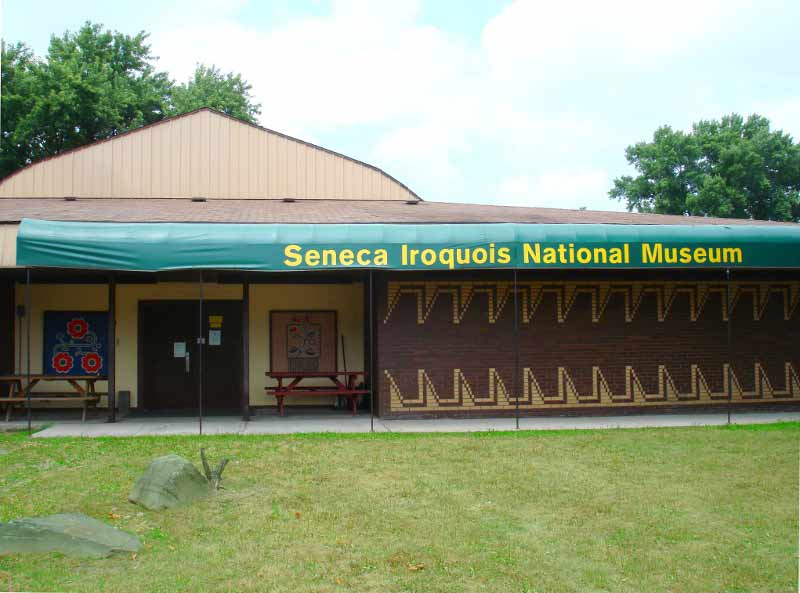 Photo by Stifehler, CC BY-SA 3.0
Experience the cultural and contemporary heritage of the Seneca and the other five nations that make up the Iroquois Confederacy at the Seneca-Iroquois National Museum. Its exhibits feature items from a collection of more than 1 million objects, including ethnographic and archaeological materials, documents, photographs, multi-media productions, special collections publications, articles and papers. Step inside a traditional Seneca longhouse and later-period log cabin. Witness the Iroquois tradition of giving thanks to the plants and animals of nature, including the animals that represent various clans. Learn about the Iroquois' love of lacrosse, and the tragic destruction of native communities by the creation of the Kinzua Dam on the Alleghany River in the 1960s.
Roger Tory Peterson Institute of Natural History
311 Curtis Street, Jamestown
Dr. Roger Tory Peterson was a pre-eminent 20th century American naturalist from Jamestown, NY, who illustrated and chronicled the natural world for the lay public, by observing, recording and publishing the beauty and diversity of plants and animals from North America and around the world. Set on 27 acres, his namesake institute is charged with preserving Peterson's lifetime body of work and making it available for educational purposes, including multiple wildlife art and photography exhibitions. The institute also conducts conservation, education and research efforts in New York, Connecticut and Pennsylvania.
American Museum of Cutlery
9 Main Street, Cattaraugus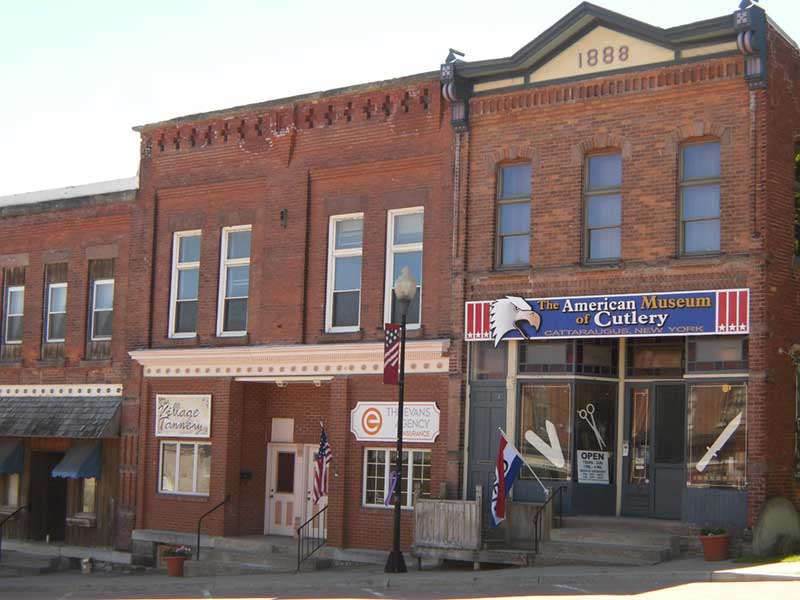 Photo by Doug Kerr, CC BY-SA 2.0
During a 200-year period, some 150 different cutlery companies existed within a 50-mile radius of Cattaraugus, NY. Thus the American Museum of Cutlery focuses on America's edged tool- and weapon-manufacturing history, located in a building that once sold knives as far back as 1888. Visitors can read blacksmith ledgers, factory documents and records and personal interviews with cutlers, while taking in historic photographs and examples of cutlers' works.
Cattaraugus County Historical Museum
9824 Route 16, Machias
Cattaraugus County Historical Museum is located in the veneravle Stone House, erected in 1868 on the campus of The Pines Healthcare & Rehabilitation Center, is the sole surviving structure of the 19th Century Cattaraugus County Alms-House and Insane Asylum. It later became the Cattaraugus County Home/Farm and Infirmary. The oldest continually operated county building, the Stone House, now holds a collection of Civil War relics, records and genealogical data.
Cutco Visitors Center
1040 E State Street, Olean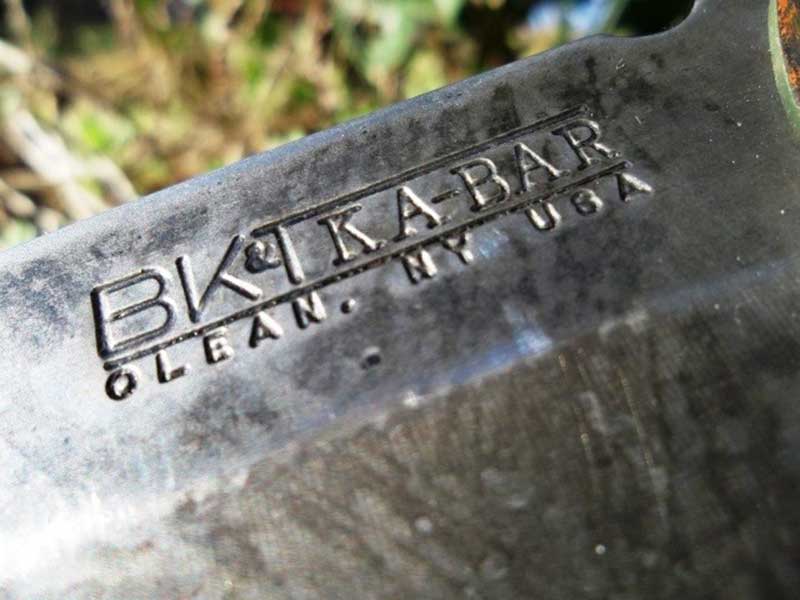 Photo by Bruce Tran, CC BY 2.0
Historic cutlery in the region extends into Olean where you can stop by the visitor's center offered by CUTCO-makers of CUTCO Cutlery and KA-BAR Knives-to learn about how the company and its products have improved people's lives for more than 50 years (especially the U.S. military, which has a long history with KA-BAR blades). Displays include antique kitchen cutlery, military and pocket knives, as well as historical photographs and documents. Not to mention, don't miss the opportunity to check out the deals at the adjoining shop. You can also bring in CUTCO products to get a factory sharpening.
Cuba Cheese Museum
20 Water Street, Cuba
Cuba, NY, knows plenty about cheese making, as showcased at the Cuba Cheese Museum. Visitors can see how the industry started and adapted to change as technology and agriculture grew and morphed over time, featuring artifacts and graphics from history. Of course, afterward you should visit its adjoining Cuba Cheese Shoppe, to get a taste of local history.
Busti Grist Mill & Historical Society
3443 Lawson Road, Jamestown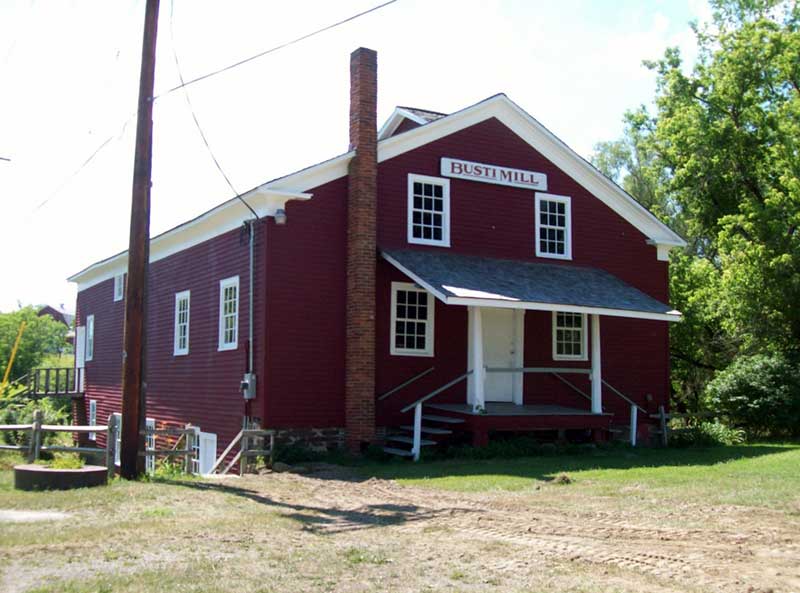 Visit the home of an historic operating Grist Mill water turbine built in 1839, as well as the Busti Historical Society Museum. The mill is open by appointment for guided tours; participants receive their own souvenir bag of freshly ground cornmeal, made on the day of their visit. The museum is also open by appointment and showcases photos and artifacts of the early days of the town, including a reconstruction of a one-room schoolhouse. Plus, the site is home to the Busti Apple Festival, held annually on the last Sunday of September.
Pioneer Oil Museum of NY
417 Main Street, Bolivar
Bolivar's Pioneer Oil Museum of New York is a repository for artifacts used in the oil businesses, found throughout Cattaraugus and Allegany Counties. The collection-which underscores the importance of the oil and gas industries to the heritage of the region-includes early drilling tools and oilfield service tools, as well as antique oilfield engines, model rigs and other oddities. A comprehensive array of photographs complements the collection, which dates from the 1870s to the present.
Salamanca Rail Museum
170 Main Street, Salamanca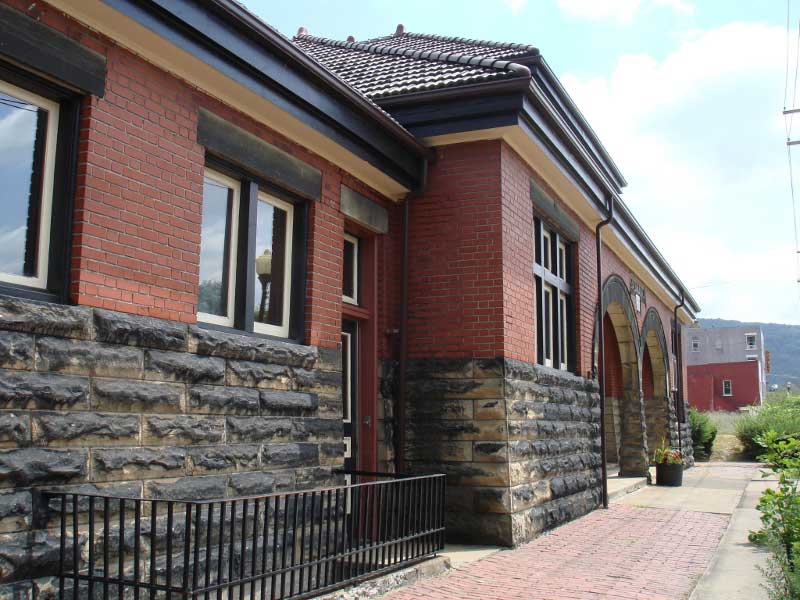 Photo by Stifehler, CC BY 3.0
Explore a fully restored passenger depot constructed in 1912 by the Buffalo, Rochester and Pittsburgh Railway, where artifacts, photographs and video presentations evoke an era more than 90 years ago, when rail was the primary means of transportation from city to city. The museum's exhibits show nostalgic railroad pieces with an emphasis on the Erie, Baltimore and Ohio (BR&P) and Pennsylvania Railroads that served the region. From the brick-walled baggage room to the multi-windowed "Ladies Retiring Room," everything in the building is either a restored original or an exact duplicate, based on the original architectural plans. Be sure to take note of the ticket office, which is authentic right down to the furniture and telegraph keys.
Dunkirk Historical Museum
513 Washington Avenue, Dunkirk
The Dunkirk Historical Museum stores, collects and exhibits artwork, photographs, sculpture and historical objects. Its Brooks Room offers displays of objects and photographs relating to the Brooks Locomotive Works and American Locomotive Company of Dunkirk, such as a Brooks fire wagon, photographs of locomotives produced at the Brooks Works and railroad paraphernalia, like railroad lanterns, a caboose stove and a sign from the ALCO plant. The room also contains items from the Dunkirk Depot, including a baggage cart, and relics from other industries, such as the Atlas Steel Company/Al Tech and Koch's Brewery. In addition, the museum provides arts programs to the community, including storytelling, quilting, painting, photography, puppetry, pottery, dancing and music.
Explore More New York Attractions »