Uncover The Past Of Sports, Forts & More At Central New York Historical Attractions
The Central New York region has a long lineage steeped in Native American and colonial history, as well as a vibrant association with arts, culture, sports, and industry. One of its most famed communities, Cooperstown, celebrates venerated NY writer James Fenimore Cooper, author of The Last of the Mohicans. Cooperstown is also well-known for the National Baseball Hall of Fame and Museum. Other destinations in the region, such as the Binghamton and Oneonta areas, are bursting with art museums, Gilded Age mansions, living history centers and heritage sites. From early American history up through the modern age, Central New York has it all.
Here are some sure-fire suggestions for the traveling history buff, whether you gravitate toward sporting legends, bygone battles or fine art:
National Baseball Hall of Fame and Museum
25 Main Street, Cooperstown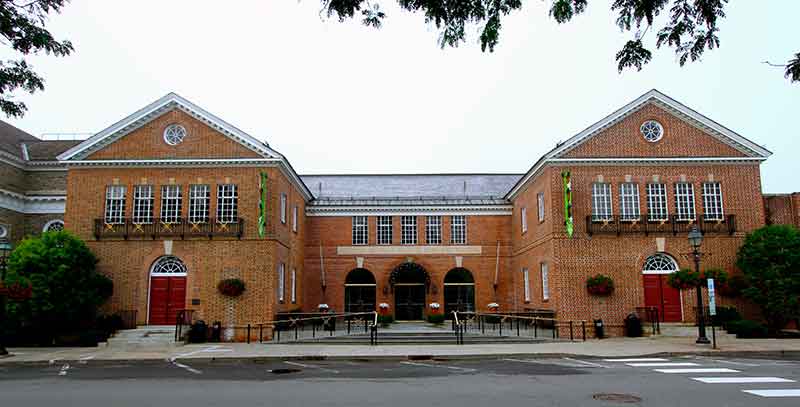 Photo by Dan Gaken, CC BY 2.0
The recently renovated National Baseball Hall of Fame and Museum is the nexus for the study of the history of baseball in the U.S. and beyond, with vast displays of baseball-related artifacts and exhibits honoring the legends who played, managed and served the sport. The museum features the hallowed Hall of Fame Gallery, as well as a collection of 40,000 artifacts, three million library items, and 140,000 baseball cards. Don't miss the museum's newest permanent exhibit, Whole New Ballgame, showing the timeline of baseball through the last 45 years up through the game we know today, with environmental video walls and new interactive elements complementing artifacts from the collection.
Old Fort Johnson
Routes 5 and 67, Fort Johnson
Sir William Johnson, 1st Baronet, was at one time one of the most powerful European-born figures in the colonial Northeast, serving as British Superintendent of Indian Affairs for the northern district from 1756 until his death in 1774. He gained particular fame and prestige from leading the Crown to victory in the 1755 Battle of Lake George and the capture of Fort Niagara in 1759, and for his skill in Iroquois diplomacy. Loyal to Britain, his family fled in 1776, leaving Old Fort Johnson-a 1749 fortified stone home-for the Patriots to occupy. Now open to the public, it features period furnishings, Native American artifacts, a military collection and a Betsy Reynolds Voorhees needlework collection, among other charms.
Fort Stanwix National Monument
100 N James Street, Rome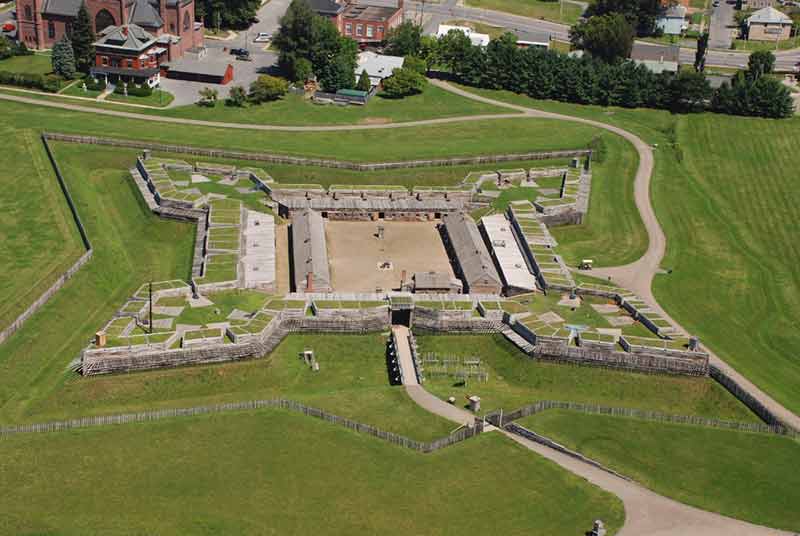 Built by the British in 1758 amid the French and Indian War, Fort Stanwix later played a vital role during the American Revolution, when Continental forces sacked it and then successfully repelled an English siege in 1777. The British defeat, among other factors, ultimately led to the Crown's eventual loss at Saratoga. The fort also served as the site of the 1768 Treaty of Fort Stanwix, between Britain and Native American tribes, and the 1784 Treaty of Fort Stanwix, between the same tribes and the fledgling American government. Today, a reconstruction of the original fort spans 16 acres in downtown Rome, including three outlying trails and a collection of 485,000 artifacts and documents. Kids can experience 18th-century life by becoming a Fort Stanwix Junior Ranger, plus the site holds special events and reenactments for all to enjoy.
The Farmers' Museum
5775 State Highway 80 (Lake Road), Cooperstown
A living history museum that re-creates 19th-century rural life, The Farmers' Museum features craftspeople demonstrating rural trades and skills on the site of a farm complex dating as far back as 1813 when it was owned by author James Fenimore Cooper. Today the museum's collections number more than 23,000 artifacts, many of which are on display in the Main Barn; there's also a NY history-themed Empire State Carousel, a restored 18th-century village, and the circa-1800 Lippitt Farmstead, which includes two barns and six other outbuildings, animal sheds, a smokehouse and the Lippitt family farmhouse. Kids can feed and pet young animals in the adjoining Children's Barnyard.
Oriskany Battlefield State Historic Site
7801 State Route 69, Oriskany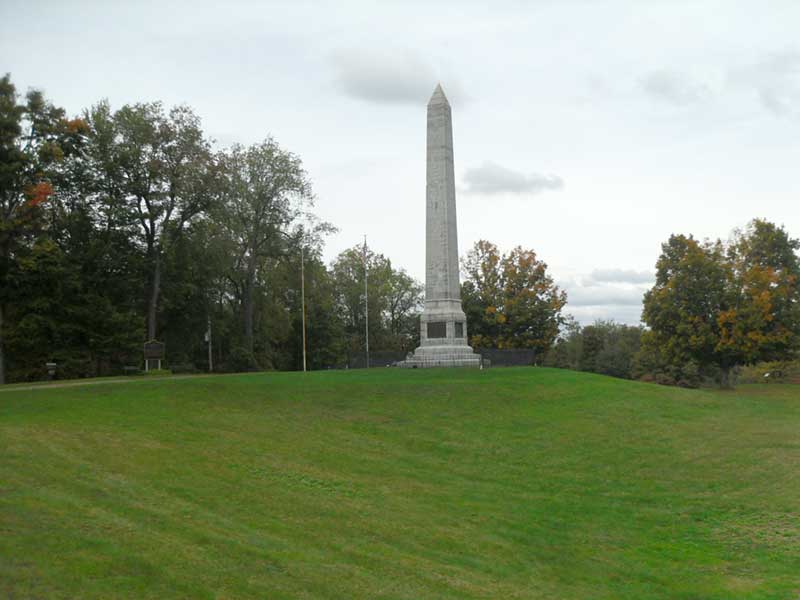 Photo by Doug Kerr, Brightness Adjusted CC BY-SA 2.0
Considered one of the turning points in the American Revolution, the August 6, 1777, Battle of Oriskany was one of the bloodiest battles of the war, with Brig. Gen. Nicholas Herkimer leading 800 militia and 60 Oneida warriors to victory amid brutal hand-to-hand combat with British, Loyalist, Mohawk and Seneca forces. Herkimer's leg was wounded in battle and he lost his life 10 days later. Modern-day visitors to the battlefield can walk the site, read a series of interpretive signs and visit a historic encampment during special events. Take note of the monument there, dedicated on August 6, 1884, as a memorial to those who fell.
Northeast Classic Car Museum
24 Rexford Street, Norwich
If gasoline-powered history is more your scene, don't miss the Northeast Classic Car Museum, featuring more than 160 classic cars and antique vehicles on a rotating display, focusing on the evolution of transportation, with particular emphasis on the role of the automobile and its impact on American culture. Permanent exhibits feature pre-war and post-war vehicles, the world's largest collection of Franklins, and cars made in New York State. It also features period clothing, a collection of WWI and WWII airplane engines and a tribute to manufacturer Bennett-Ireland.
Chittenango Landing Canal Boat Museum
717 Lakeport Road, Chittenango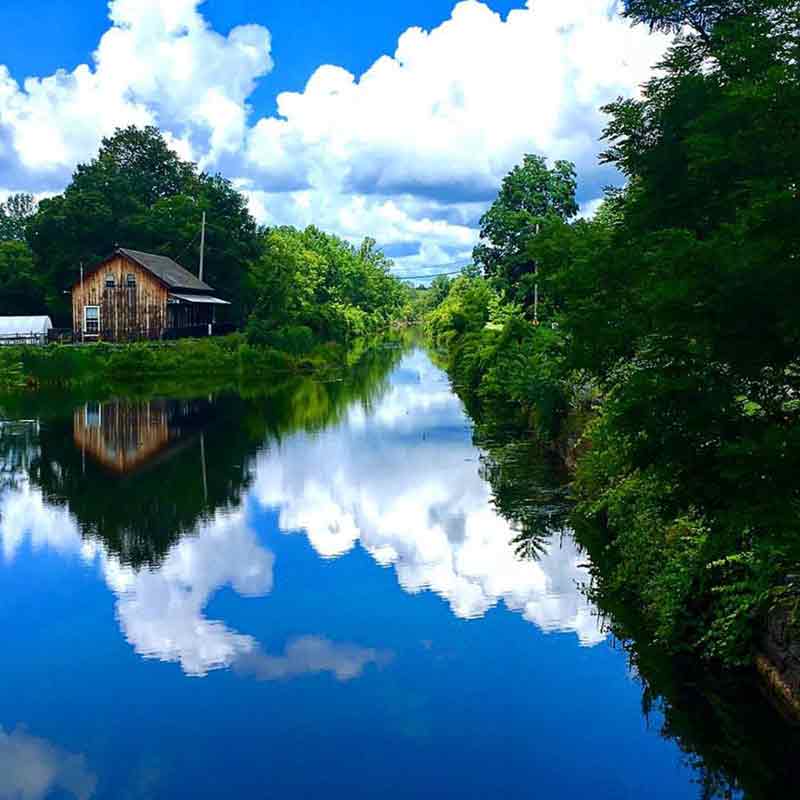 Photo taken by Mike Allen, Resident Blacksmith and Historical Interpreter at Chittenango Landing Canal Boat Museum
Thanks to a decades-long archaeology and preservation effort, the Chittenango Landing Canal Boat Museum historic preservation site on Old Erie Canal features a restored dry dock (the only survivor of 30 such docks once on the canal) and an interpretive center, offering blacksmith demonstrations and tours of the boat building and repair facilities. There's also a nature trail for walkers and a bike trail for cyclists, running along the canal towpath.
Bundy Museum of History and Art
127 Main St # 129, Binghamton
In 1889, brothers Willard Bundy and Harlow E. Bundy opened a time-recording clock company in downtown Binghamton; by the turn of the 20th century, thousands of workers were clocking in and out of work on Bundy Time Recorders. The company flourished, moved to Endicott, and later became IBM. Now, Harlow Bundy's former Binghamton home houses the Bundy Museum of History and Art, featuring everything from early manufacturing and broadcasting artifacts to international art. There's an African Gallery, a life-sized recreation of the Bundy Manufacturing Company's 1893 World's Fair Booth, and even a complete barbershop, which originally stood two blocks from the IBM factory in Endicott.
Fenimore Art Museum
5798 State Route 80, Cooperstown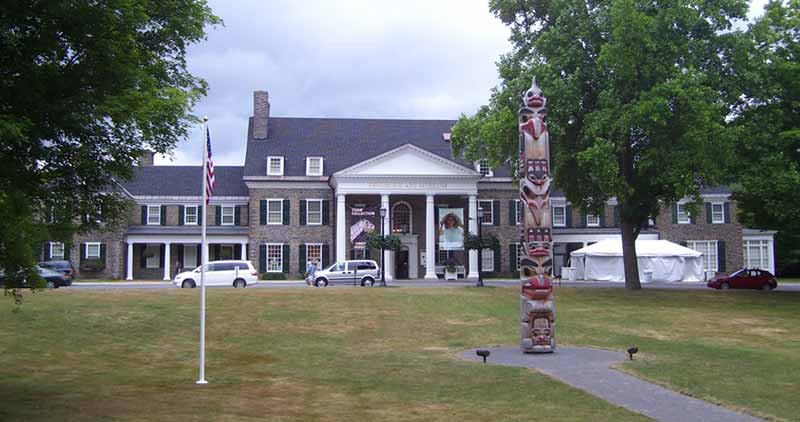 Photo by Beyond My Own Ken, CC BY-SA 4.0
The Fenimore Art Museum occupies the former Fenimore House, an impressive neo-Georgian structure built in the 1930s on the site of Cooper's Glimmerglass-author James Fenimore Cooper's early 19th-century farmhouse-on the shore of Otsego Lake. It now houses the art and history collections of the New York Historical Association, including extensive American paintings and folk art, Native American art, historical photography, significant material associated with Cooper and his family, and scenic terraced gardens overlooking the lake.
Hyde Hall
267 Glimmerglass State Park Road, Cooperstown
A 50-room Regency-style neoclassic stone English manor house, Hyde Hall was built by George Clarke between 1817 and 1835. It's now a museum, offering breathtaking views of Otsego Lake and the surrounding countryside, as well as an enormous collection of period furniture and furnishings. The exhibits chronicle the life and times of five generations of Clarkes at the site, while extensive document and research archives preserve the family's history and impact on the Hudson and Mohawk Valleys.
Phelps Mansion Museum
191 Court Street, Binghamton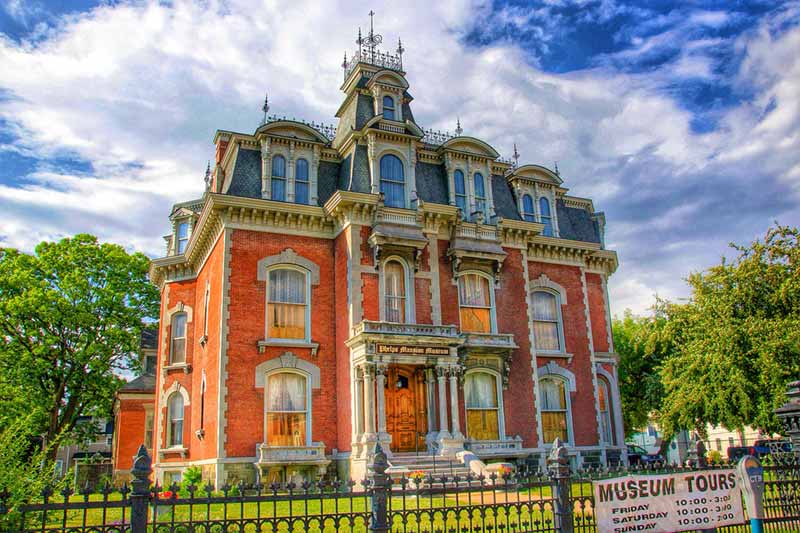 Photo by Bill Badzo, CC BY-SA 2.0
Journey back to the Gilded Era at the opulent Phelps Mansion Museum, the last of its kind on Binghamton's former "Mansion Row," where banker, businessman and former city mayor Sherman D. Phelps and his family once resided. The preserved three-story post-Civil War Victorian home-erected in 1871-is now open to the public for tours, exhibitions, educational programs, and events.
Iroquois Indian Museum
324 Caverns Road, Howes Cave
The Iroquois Indian Museum educates visitors on Iroquois culture and creativity by featuring Iroquois art from the past and present. The exhibits are housed in a massive building designed by architect C. Treat Arnold as a contemporary take on the traditional Iroquois longhouse, complete with a large skylight over the main gallery that recalls the smoke-holes in period longhouses, and shake exterior siding that evokes the traditional slabs of elm bark the Iroquois once used. Highlights include the unparalleled artifact collection amassed by local archaeologist and founding trustee Jim Osterhout, as well as extensive resources for studying the ethnohistory of the Schoharie Mohawk, including a large library with copies of original papers and records from the 1600s and 1700s.
Yager Museum of Art & Culture
1 Hartwick Drive, Oneonta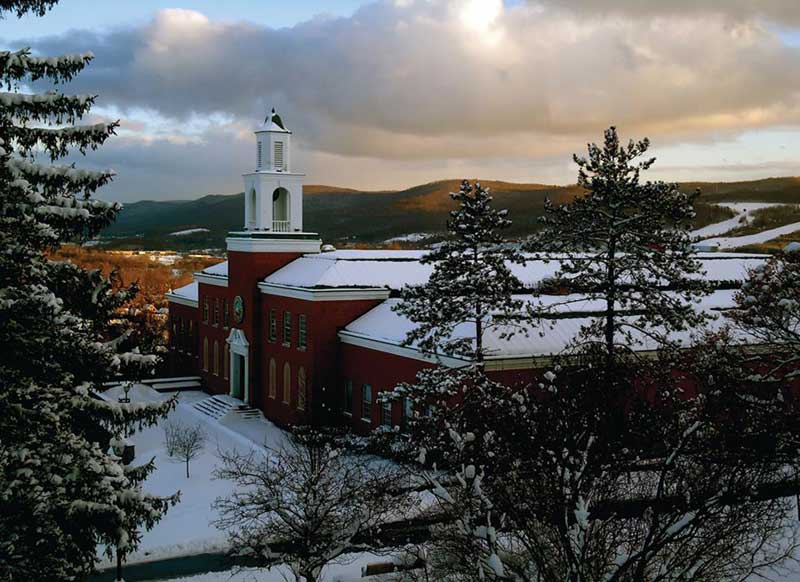 Oneonta's Yager Museum of Art & Culture comprises more than 17,000 items, including Native American archaeological and ethnographic artifacts, European and American fine art, pop art and material culture artifacts. Its Upper Susquehanna Collection is one of the best-documented regional archaeological collections in the state; other important ethnographic collections include Southwestern Native American and South American artifacts. There's also a significant collection of Italian Renaissance paintings and Russian icons, important American paintings by Frederick Childe Hassam, Homer Dodge Martin, Ralph Blakelock and John Henry Twachtman, and more recent works by Rockwell Kent, Alexander Calder and Andy Warhol. The museum is located in Yager Hall at Hartwick College.
Old Stone Fort Museum
145 Fort Road, Schoharie
Constructed in 1772 as a church, Schoharie's Old Stone Fort was fortified with a wooden stockade during the American Revolution and used in 1780 to repel 800 attacking British Loyalists and Indians. Nowadays the county operates the site as a museum complex dedicated to the history of the Schoharie Valley, featuring not just the church, but also an early 1700s home, a 1780s Dutch barn, an 1830s law office and an 1890s one-room schoolhouse, as well as a collection of 50,000 artifacts, a research library and a local genealogy archive. Hands-on workshops, events, and battle reenactments offer opportunities for immersive learning.
International Boxing Hall of Fame
360 North Peterboro Street, Canastota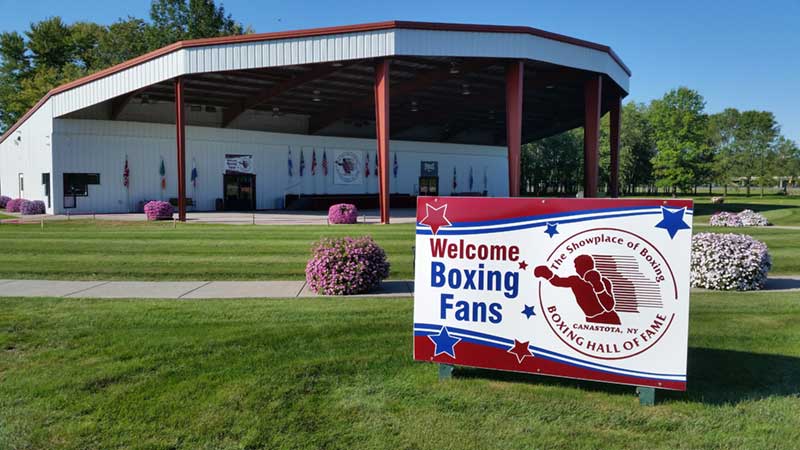 Photo by David A. Sonnenfeld, CC BY-SA 4.0
In 1982 residents of Canastota, NY, decided to honor two local boys: Carmen Basilio, former late-1950s welterweight and middleweight champion, and his nephew Billy Backus, winner of the 1970 world welterweight title. The townspeople raised funds for a showcase to celebrate the two local heroes, and by 1989 the International Boxing Hall of Fame was born. Today the Hall continues its mission is to honor and preserve boxing's rich heritage, chronicle the achievements of those who excelled and provide an educational experience for visitors. The Hall holds an annual induction ceremony each year in early June, as the highlight of a four-day celebration of boxing and its legends.
Remington Arms Museum
14 Hoefler Avenue, Ilion
The Remington Arms Company-makers of some of the most iconic firearms of the last two centuries-dates to 1816, and continues to employ more than 1,000 workers at its historic Ilion, NY, plant. Although you can't tour the actual factory portion of the complex itself, the plant offers a museum for enthusiasts, showcasing the company's legacy and displaying antique, modern and custom firearms. Also highlighted are many innovative designs and manufacturing processes developed by Remington, as well as the history of the Remington Standard Typewriter and Remington Sewing Machine.
Munson-Williams-Proctor Arts Institute Museum
310 Genesee Street, Utica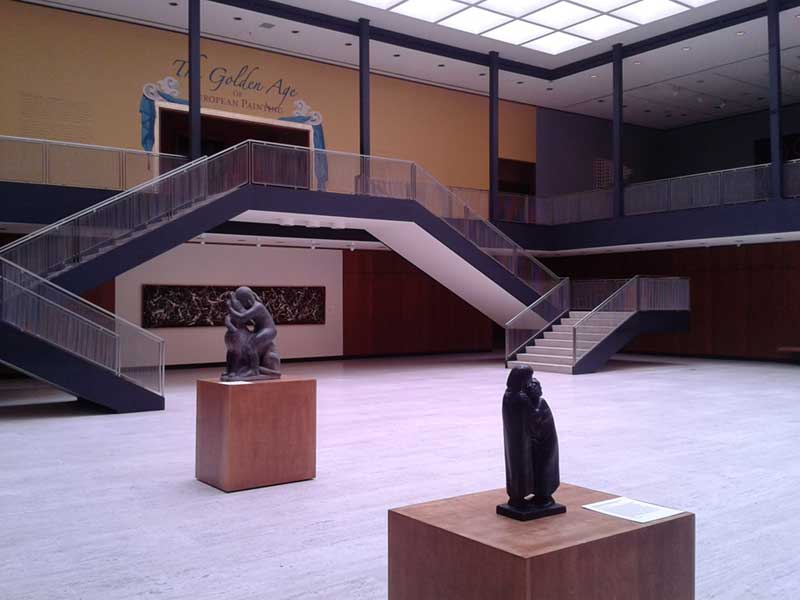 Photo by Ser Amantio di Nicolao, CC BY-SA 3.0
An internationally recognized fine arts center, the Munson-Williams-Proctor Arts Institute's museum features a permanent collection of 300 years of American painting, 19th-century decorative arts, European Modernism, Japanese prints and more. Its permanent collection of more than 15,000 objects originated with the Williams and Proctor families, who collected American and European paintings, and decorative arts in the late 19th and 20th centuries. Expansion began in earnest after WWII, intensifying in 1957 when Edward W. Root bequeathed more than 200 major 20th-century American paintings and drawings to the museum, elevating it into a major repository for the art of the era.
Explore Upcoming Events In New York »