Experience the Excitement of a Saratoga Springs Vacation!
Visitors come to the Saratoga Springs NY and Capital region for the thrills of the racetrack, only to find a charming city offering an eclectic mix of tradition, innovation, and excitement!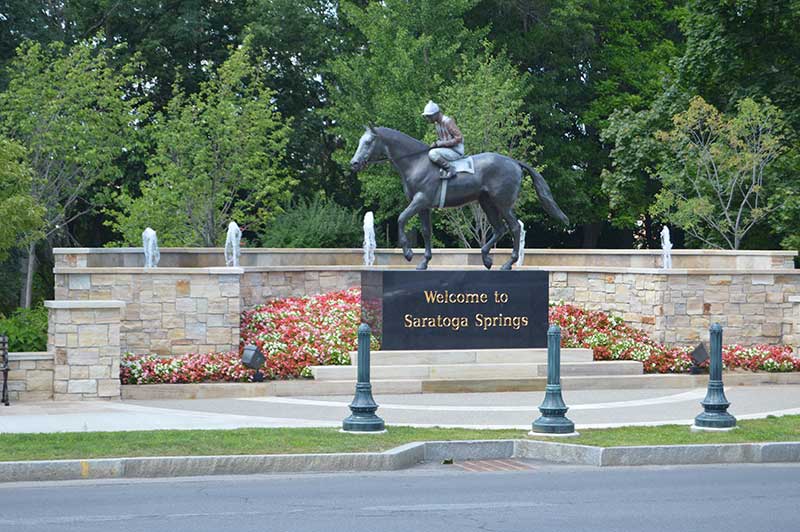 The enchantment of Saratoga Springs is everywhere! Stroll the old-world Victorian downtown and marvel at the gracious mansions on tree-lined streets. Tour the sight of the Revolutionary War Battle of Saratoga at Saratoga National Historical Park, or take the kids for a ride on the antique Carousel in Congress Park. Shop for something special at the best-known retailers, or explore the many boutiques and shops that line the quaint downtown streets. Outdoor adventure includes hiking, biking, skiing, and everything in between! (Don't forget your clubs - golfing is excellent!)
Treat yourself and make scenic Saratoga your New York State vacation destination! Find fabulous Victorian bed and breakfasts with huge front porches, quaint inns, contemporary and historic hotels and motels to accommodate the preferences of every traveler. Dining in Saratoga is a vacation experience in itself, with a significant selection of restaurants offering everything from formal gourmet meals with candlelight and tablecloths, to an informal dinner and drinks on a Broadway restaurant patio. Slip into a café or bakery and savor a world-class dessert and gourmet coffee. Nightlife is lively, with your choice of dance clubs, quiet taverns or pubs.
The unique history and culture of Saratoga is evidenced in its many museums and galleries. Spend some time at Saratoga Spa State Park, discovering unique attractions that include the Lincoln Mineral Baths, the National Museum of Dance and Hall of Fame and the National Museum of Racing and Hall of Fame. The Saratoga Performing Arts Center is summer home to the New York City Ballet and the Philadelphia Orchestra, along with spectacular performances by popular artists.
Saratoga Springs is located just 45 minutes north of the New York State Capital Region of Albany, and less than 4 hours from New York City and Boston.